Skip page content
The Future of Pediatric Medicine: Precise and Targeted Medications
Date: 03.10.19 | Update: 14.11.19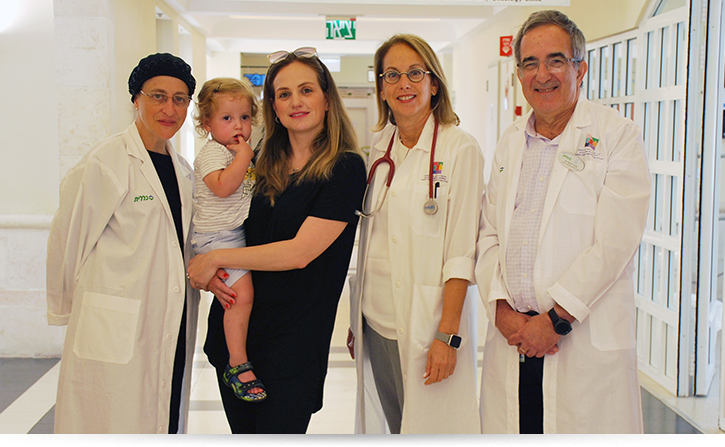 Ariel was just two months old when he arrived in the Oncology Department at Schneider Children's with a huge growth on one of his ribs. Diagnosed with a fibrosarcoma tumor, he underwent chemotherapy. Due to the proximity of the growth to blood vessels and nerves in his chest, rib cage and right arm, surgery was not an option. Despite the chemotherapy however, the tumor continued to grow.
Specialists in the Hemato-Oncology Division headed by Prof. Shai Izraeli sought an alternative way to treat Ariel. A special genetic test conducted in the diagnostic lab revealed a specific genetic disorder – a mutated gene called NTRK. Armed with this information, doctors searched for a clinical research trial utilizing targeted medication to delay the tumor's growth, and found an ongoing international experimental trial which was investigating a new medication to treat this specific genetic disorder. Senior oncologists Dr. Helen Toledano and Dr. Shifra Ash contacted their colleagues in the hospital in Heidelberg, Germany, which was collaborating in the research, and arranged for the speedy transfer of Ariel to Germany so he could receive the trial medication administered in syrup form.
The novel drug targeting the genetic disorder caused a great change. Within less than two months, the tumor had shrunk almost entirely, at which point, Ariel underwent surgery to remove the remainder of the growth. A biopsy showed that there were no more living cells and the infant was in fact altogether healthy.
"This represents a new era in cancer treatment," said Prof. Izraeli. "The treatment was geared precisely towards the genetic changes in the tumor, and so instead of focusing on the type and location of the growth, the medication aimed at the type of genetic mutation. For instance, in this case, this was a growth that could have also appeared in the brain or kidneys. Future treatment for children with cancer will be increasingly based upon precise genomic analysis and individually adjusted with new drugs. This important change significantly advances the vision to heal every child with cancer."
Ariel's mother, Tamar, added that "Ariel's story is a miracle. I don't wish upon any mother to see her infant child with a huge tumor undergo chemotherapy. I am grateful to the staff in the Oncology Department who fought for my son and found an excellent and innovative solution for him. I received my son back."
The Hemato-Oncology Division at Schneider Children's treats children with blood and cancerous diseases from all over the country and is the largest of its kind in Israel. The department comprises an inpatient section, outpatient clinics, specialized units, and diagnostic and research labs. The multidisciplinary staff provides comprehensive care to each child and their family according to international protocols, thus dramatically improving the chances of each child with cancer, and spearheading innovation and research in pediatric blood and cancerous diseases. The department is currently in the throes of establishing a center for genetic analysis and advancing a European center at Schneider for novel biological medicinal research.