Skip page content
New Appointment
Dr. Liat Ashkenazi-Hoffnung Appointed Director of the Day Care Hospitalization Department
Date: 01.07.19 | Update: 08.07.19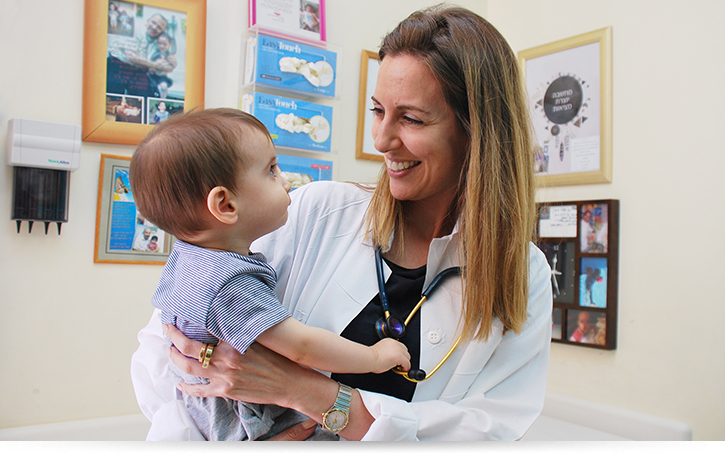 The Management of Schneider Children's Medical Center has announced the appointment of the new Director of the Day Care Hospitalization Department: Dr. Liat Ashkenazi-Hoffnung, who replaces Prof. Avi Zeharia who has retired.
Dr. Ashkenazi-Hoffnung, a resident of Petach Tikvah, is married and a mother of three. She previously served as a senior physician in the Pediatrics B Department and the Infectious Diseases Unit at Schneider Children's. Dr. Ashkenazi-Hoffnung obtained her MD degree from the University of Tel Aviv and completed her residency with excellence in Pediatrics at Schneider Children's. She sub-specialized in Infectious Diseases at Schneider Children's, completing her studies yet again with excellence.
She serves as a senior clinical lecturer at Tel Aviv University, is a member of various committees at Schneider Children's, and a member of the control committee of the Israeli Society for Infectious Diseases. Dr. Ashkenazi-Hoffnung is the recipient of many awards for her research studies, and received the outstanding physician award in 2014 and outstanding teacher award in 2015.
The Day Care Hospitalization Department at Schneider Children's is an internal unit that treats outpatients for medical evaluation after which the children return home without the need for admission and overnight stay. The department is staffed by a multidisciplinary team who operate on two levels: comprehensive assessment of undiagnosed diseases and treatment of conditions requiring intravenous medication. The department is among the leading facilities in the country dealing with a range of situations, which includes a clinic for eating disorders in infants, an adolescent clinic, metabolic diseases clinic, infectious diseases clinic, and clinics for headaches and chronic pain.
Prof. Joseph Press, Director of Schneider Children's, stated that "the management of Schneider Children's and I congratulate Dr. Ashkenazi-Hoffnung on her appointment as Director of the Department of Day Care Hospitalization. Dr. Ashkenazi-Hoffnung started her relationship with Schneider Children's 12 years ago as a young resident followed by her sub-specialization. She is an inspiration and model for young residents, and I am sure that her rich experience, personality and broad knowledge will bring her much success in her new posting. At the same time, Hospital Management expresses its appreciation to Prof. Avi Zeharia for his many years of service to Schneider Children's and pay him tribute. We wish him continued health and success upon his retirement."