Skip page content
Outdoor Photo Generates Excitement
Eltayib Abu-Gaafer at Schneider Children's and was surprised to see his photo mounted on the "talking wall" at the entrance to the hospital
Date: 30.04.19 | Update: 08.07.19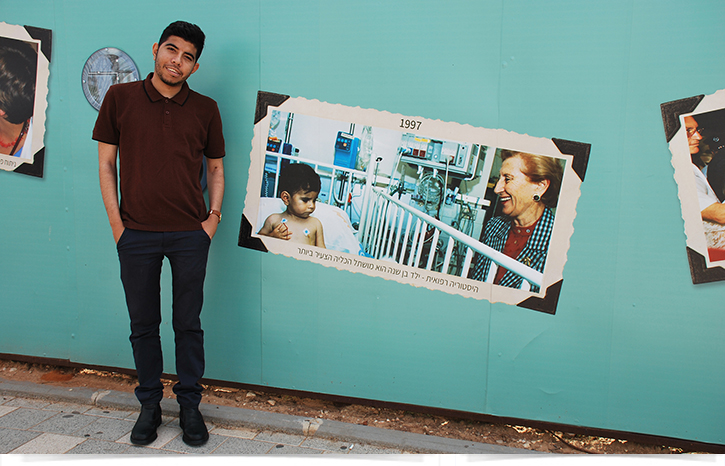 Eltayib Abu-Gaafer, 22, arrived at Schneider Children's and was surprised to find a photo, taken when he was a year-old infant, mounted on the "talking wall" surrounding the construction site of the new building at the entrance to the hospital.
Eltayib had undergone a kidney transplant when he was just a one-year-old infant in 1997, which was a rare operation in those days. The event was a huge achievement for Schneider Children's and more so because Eltayib was the youngest kidney recipient in the country. Because of the medical breakthrough, the infant and his family were visited by Mrs. Reuma Weizman, wife of the 7th President of the State of Israel, Ezer Weizman. Since then, hundreds of organ transplants - considered a routine procedure today - have been conducted at Schneider Children's.
The graphically designed outdoor fence ("talking wall") was erected around the construction site of the new hospital building, and leads from the parking area up to the entrance of the existing building. The fence represents a timeline of information – a pictorial history – of Schneider Children's milestone events and achievements since 1988, up to the architect's impression of the new extension. The fence also includes open peek holes at different heights allowing passersby a chance to look through and see the ongoing construction.