Skip page content
Michal's Courageous Act
5-year-old Leon underwent a kidney transplant at Schneider Children's which was enabled through the altruistic donation of Michal; neither donor nor recipient knew one another
Date: 03.06.19 | Update: 08.07.19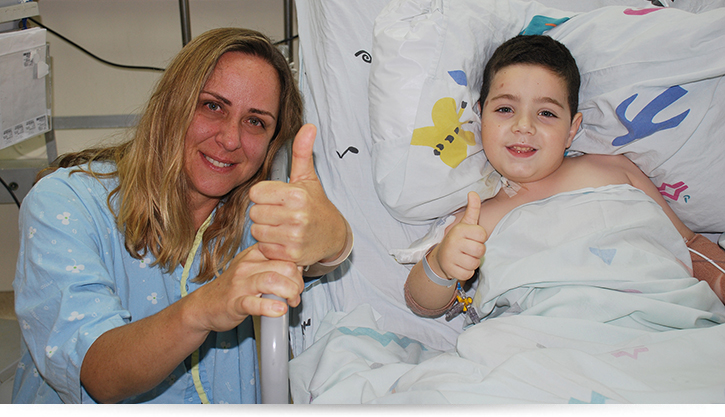 The incredible story began a few months ago when Michal was planning to donate a kidney to her husband, Ilan, and was undergoing preliminary tests. Then they heard about Leon who needed a kidney transplant and for whom a suitable donor had not been found. According to her test results, Michal was found to be a match for little Leon. When approached by the organ transplant team, Michal immediately agreed to donate her kidney to Leon, while another altruistic donation was sought for Ilan. Due to the complex situation, Michal and Ilan, parents of three children from Ramat Hasharon, waited through long weeks until the cross-transplant could be performed.
The cross-transplant operations took place successfully this past week. Michal and Leon were wheeled into adjoining operating rooms at Schneider Children's. Once the kidney was removed from Michal, it was transferred next door to Leon, all this while neither had met the other. At the same time, in the adjacent Beilinson Hospital, altruistic donor Jerome, underwent surgery to remove his kidney, which was transplanted into Ilan. Jerome offered to donate his kidney through the "Matanat Chaim" (Gift of Life) non-profit organization.
Leon had been born with a low-functioning kidney and it was clear that he would need a kidney transplant in order to improve his health and quality of life. He had waited a long time for a cadaveric or living donor kidney until Michal agreed to donate her kidney to him. Leon's parent's did not leave his bedside and were happy and excited to hear that the transplant operation had gone smoothly. A few days after the transplants, Michal and Ilan, together with Jerome, met Leon and his family. The moving event did not leave a dry eye.
Kidney and liver transplants at Schneider are headed by Drs. Michael Gurevich and Sigal Eisner, senior physicians in the Organ Transplantation Department. In order to conduct liver and kidney transplants, which are complex procedures as it is, and even more so when small children are involved, demand special preparedness of multidisciplinary teams comprised of pediatric organ transplant surgeons, ultrasound technicians, gastroenterologists, nephrologists, transplant coordinators, dieticians, dialysis teams, anesthetists and surgical nurses, intensivists, Pediatrics "C" transplant teams and more. All personnel are specialists and highly experienced in treating child organ recipients.
Schneider Children's conducts the majority of pediatric organ transplantations in Israel. Since its inception, more than 600 heart, lung, liver and kidney transplants have been performed in children and youth, at a success rate on a par with leading centers in the world.