Skip page content
Organ Recipients Attend Swiss Ski Camp
A delegation of four youngsters who underwent organ transplantations at Schneider Children's recently flew to the Tackers Ski Camp in the Swiss Alps
Date: 07.04.19 | Update: 18.04.19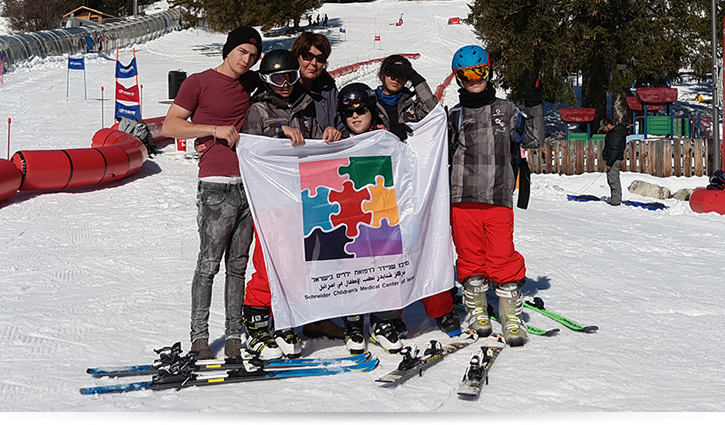 A delegation of four youngsters who underwent organ transplantations at Schneider Children's recently flew to the Tackers Ski Camp in the Swiss Alps. The children were accompanied by liver transplant coordinator Michal Shafir and 20-year-old Dennis Chachansky, who underwent a liver transplant at Schneider Children's when he was 9 years old. Organ recipients from Schneider Children's have participated in the ski camp for the past several years due to the generous and ongoing contribution from The Association of Friends of Schneider Children's. This year, El Al Airlines donated 3 of the 6 airline tickets for the flight from Tel Aviv to Geneva.
The delegation included 4 youngsters aged 10 to 15, who had undergone a liver, kidney or heart transplant at Schneider Children's countries also participated in. About 25 other organ recipients from different countries also attended, among them England, Australia, France, Hungary, Belgium and more.
The Tackers Ski Camp was founded by Ms. Liz Schick from Switzerland, who loves skiing and who underwent a liver transplant herself. Every year, she raises funds for the week-long camp where organ recipients from all over the world gather. The week has great importance to the lives of the youngsters. For most of them, this is the first time in their lives that they are on their own and in fact this is their first opportunity to enjoy a change in their regular routine of home and hospital. The communal experience of being among other children and adolescents who have been through similar life trials allows them to find a common language and understanding surrounding the pre- and post-transplant process, while bridging the gaps of language and culture.
Dennis said that "there is a different atmosphere in the camp to what the children are used to. They learn a healthy way of life that integrates physical activity, have the most amazing experience and manage to cope without their parents, all while with the emphasis on independence and responsibility. Mostly, they learn that they are not alone, and that there are many others in the world like themselves."
Schneider Children's conducts the majority of organ transplants in children in Israel and among the few able to conduct several transplants at the same time. Since its inception, more than 600 transplants of heart, lung, liver and kidneys have been conducted at a rate of success on a par with other leading medical centers in the world.