Skip page content
Rare Dual Organ Transplant
A rare and complex dual organ transplant of a liver and pancreas took place at Schneider Children's recently
Date: 31.03.19 | Update: 10.04.19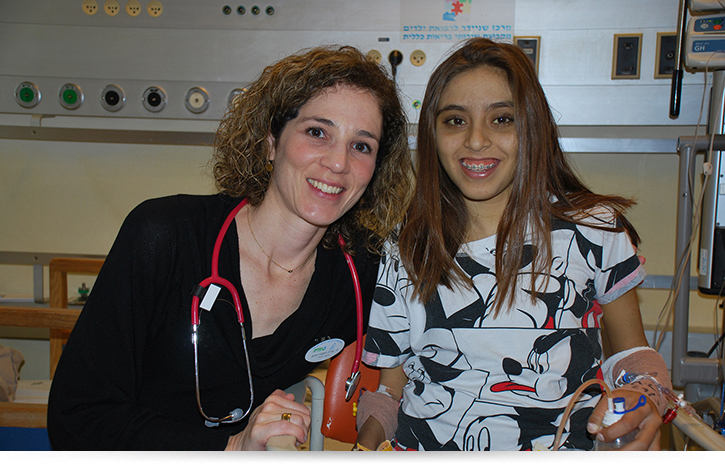 Hila Amram, 13½, from Beer Tuvia, suffered from two diseases - a congenital disorder called biliary atresia (blocked bile ducts that caused liver dysfunction), and diabetes. Due to the deterioration of her liver which led to liver failure, combined with diabetes, she had to undergo dual organ transplants to save her life. This was a rare step which not only saved Hila's life, but also relieved her of her dependence on insulin.
Over and above the procedure, the internal organs of the donor were found in reverse order of their normal location, in itself a rare situation that demanded high aptitude and skill. Following the operation, Hila was transferred to the Pediatric Intensive Care Unit for recovery.
Immediately following the liver and pancreas transplant, another operation ensued of a kidney transplant in an 8-year-old girl who suffered from congenital renal failure. She had been treated in the Dialysis Unit and had been waiting for an organ for close to a year. During the month of March 2019, Schneider Children's conducted 9 organ transplants in children aged 9 months to 13½ years including a heart, liver and pancreas, 2 liver lobes and 5 kidneys.
The liver and kidney transplants were performed by Dr. Michael Gurewitz and Dr. Sigal Eisner, senior transplant surgeons in the Organ Transplantation Department at Schneider Children's. In order to conduct liver, pancreas and kidney transplants, which are already complex operations, and even more complicated when small children are involved, special preparedness of multidisciplinary teams is essential. The teams comprise transplant surgeons, ultrasound technicians, gastroenterologists, nephrologists, transplant coordinators, social workers, dieticians, dialysis teams, anesthetists and surgical nurses, intensivists, transplant specialists from Pediatric C and more, all highly experienced in their fields.
According to Sarit Amram, Hila's mother, "When Hila was born, we were told that she would need a liver transplant during her life but we didn't know when. At the end of January 2019, her condition worsened, and we waited for the liver transplant for two months which seemed like an eternity. The thoughts, fears, sense of life on hold, foreboding and stress, until you reach this place, you cannot understand it. It is from here that I call on people to sign the Adi card to save lives! It is also important to emphasize that the transplant arena in Israel includes expert doctors and personnel. We met an angel called Dr. Michael Gurewitz who received a very sick Hila and broken parents, and always took care to say a kind word, to encourage us, offer support despite the difficult medical situation. We thank the entire staff of gastroenterology, Dr. Orit Waisbourd, Dr. Yael Mozer and the amazing transplant coordinator Michal Shafir. I have no doubt that recovery from this complex operation is dependent on the staff who guides us. I also wish to thank the donor's family who in their most difficult hour, agreed to donate their daughter's organs to save the life of my daughter."
Schneider Children's conducts the majority of organ transplants in children's in Israel and among one of the few hospitals in the world that can perform several organ transplantations at the same time. Since its inception, more than 600 transplants of heart, lung, lifer, and kidney have been conducted in infants, children and adolescents with a rate of success comparable to leading institutions in the world.