Skip page content
Heart Transplant
On March 22, 2019, Shushan Purim, Shalom Dov Ber Yona, aged 13½, underwent a lifesaving heart transplant at Schneider Children's
Date: 24.03.19 | Update: 10.04.19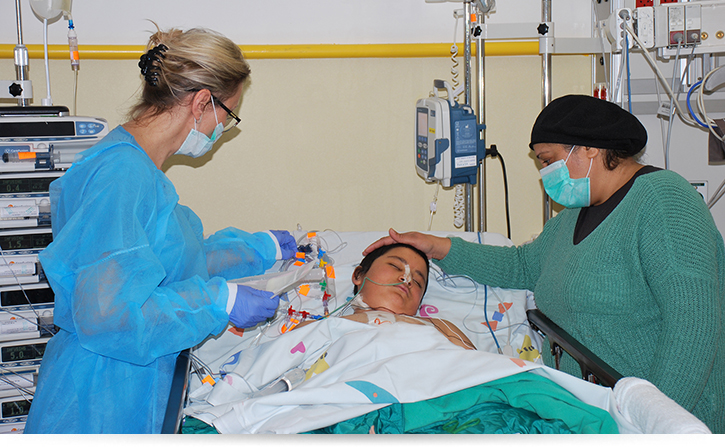 On March 22, 2019, Shushan Purim, Shalom Dov Ber Yona, aged 13½, underwent a heart transplant at Schneider Children's. The operation was conducted by Prof. Dan Arvut, Director of Cardiothoracic Surgery at Beilinson and Schneider Hospitals, Dr. Georg Frenkel, Director of the Cardiothoracic Surgery Unit at Schneider, and Dr. Yaacov Katz, Director of the Surgical Suite and Anesthesia Department. Following the surgery, he underwent follow-up care in the Cardiac Intensive Care Unit headed by Prof. Ovdi Dagan and Head Nurse Rim Abd El Hai. Dr. Nili Zucker, senior cardiologist in the Cardiology Institute headed by Dr. Einat Birk, oversaw his care.
Shalom suffered from cardiomyopathy, a disease of the heart muscle, and underwent a pacemaker implant at Schneider Children's several years ago. Since then, he has been under the joint care of Soroka Hospital in Beersheva and Schneider Children's. When his condition deteriorated, only a heart transplant could save his life.
Heart transplants in children are very rare and to wait for such a short time for a heart transplant is most uncommon. His mother, Keren said, "I thank the heart donor's family for giving my son Shalom Dov a chance to live a normal life. We share in their sorrow; our hearts are with them. I would very much like to meet them."
During the weekend that followed, a kidney was transplanted into a 5-year-old girl who suffered from renal failure and had been treated for the past 18 months in the Dialysis Unit. The child recovered in the Pediatric Intensive Care Unit headed by Dr. Elhanan Nahum. Her mother Odelia said that "after waiting for over a year, we received a phone call on Thursday night to tell us that a suitable kidney had been donated. It is impossible to put into words our excitement on the one hand and the enormous pain of the donor's family on the other. Our thoughts are with them. This was a brave lifesaving act which fills our hearts. An act that is not taken for granted. Our deep gratitude to the family, in whose sorrow we share."
Schneider Children's conducts the majority of organ transplants in children in Israel. Since its inception, more than 600 transplants of heart, lung, liver and kidneys have been conducted at a rate of success on a par with other leading medical centers in the world.