Skip page content
Ear Reconstruction Surgery
Corrective surgery was conducted in several children recently who were born with ear deformities
Date: 03.03.19 | Update: 10.03.19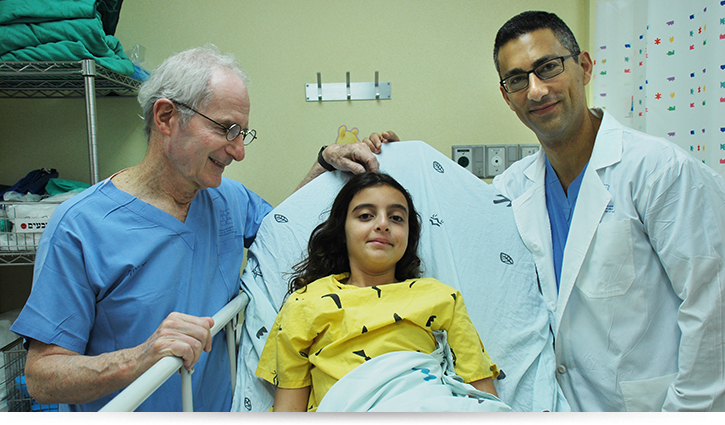 Unique operations to reconstruct the outer ears in children born with deformities were performed recently by Dr. Assaf Ulshinka, senior surgeon in the Plastic Surgery Unit at Schneider Children's, and Dr. John Reinisch, world-renowned American cranio-facial plastic surgeon. Dr. Reinisch is known for developing a cutting-edge technique for ear reconstruction utilizing a porous implant, which has revolutionized the treatment of microtia, a congenital deformity of one or both ears in which the outer ear is absent.
Microtia can only be treated through surgery. There are various techniques and approaches for ear reconstruction, which are divided into two categories: utilizing one of the patient's ribs or through an implant. Dr. Ulshinka, who specialized in pediatric plastic surgery and cranio-facial surgery, hosted Dr. Reinisch, who heads the Plastic Surgery Department of Children's Hospital in Los Angeles, and together they performed several operations to create new ears for children.
Dr. Ulshinka said that "I am thrilled anew every time by the powerful change that can be achieved in children born with facial deformities. I am proud to be part of the Pediatric Plastic Surgery Unit and the team which provides excellent services on the highest levels for children through plastic surgery in general and craniofacial surgery in particular."