Skip page content
Hamudi B'Schneider
A new pediatric clinic has opened within Schneider Children's for local Clalit members with extended hours to suit parents of young children
Date: 20.01.19 | Update: 27.02.19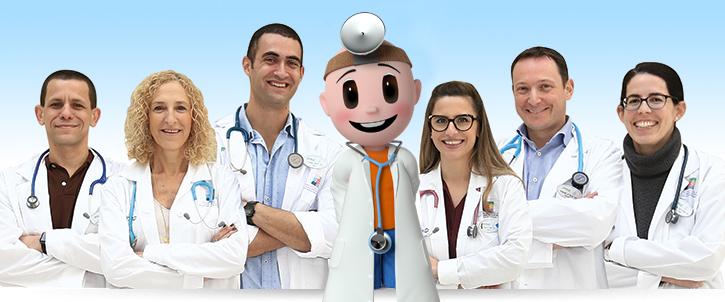 A new pediatric clinic has opened within Schneider Children's for local Clalit members with extended hours to suit parents of young children.
• 6 pediatricians will provide medical services
• Blood and imaging tests on site with answers within an hour
• Extended opening hours adapted to parents of small children
• Pharmacy services
• Free parking
The National Insurance Institute ("Bituach Leumi") has found that 33% of Petach Tikvah residents are children under the age of 18. The flourishing and growing city, where a third of its residents are children, demands that health services be expanded in order to respond to the needs of such a large proportion of the local population. And this is exactly what Clalit Health Services is currently doing through the opening of a new Pediatric Clinic at Schneider Children's Medical Center.
The clinic, which opened this week, will operate according to a unique model harnessing Schneider's finest specialists to provide medical services to the children of Clalit. The clinic is located on the ground floor and will be open 6 days a week, with extended hours suitable for parents with young children. The key advantage to the clinic is the provision of medical services by 6 pediatricians: Dr. Itai Berger, Dr. Gilat Livne, Dr. Michal Nevo-Shenker, Dr. Patrick Staffler, Dr. Liad Avneri, and Dr. Shiri Rubin.
Dr. Ido Lukas, Head of the Dan/Petach Tikvah District at Clalit stated that "we are pleased to open a new clinic that harnesses all the medical capabilities and professionalism of Clalit and Schneider specialists for the good of the children of Petach Tikvah. Clinic patients will enjoy all the medical services in one place while harnessing the professionalism, experience and infrastructure of Schneider to provide accessible and quality services through minimal effort by the patients."
Dr. Itai Berger, senior physician in the Internal Medicine Department A at Schneider Children's and Director of the new Hamudi Clinic, said that "the clinic is the only one of its kind that provides community medical services by senior specialists at Schneider Chidlren's. Doctors will provide treatment as a group to promote better and broader knowledge of our patients and accord consultation amongst ourselves and our colleagues in Schneider, where needed. Additionally, we have invested much thought in adapting services to the needs of parents of small children, both with regards to opening hours and the pooling of needed services such as imaging studies and blood tests all in the same place."
The Hamudi Clinic at Schneider Children's will be open 6 days a week from early morning between 06.30 - 08.15 prior to parents going to work, and again in the afternoons from 16.00 – 20.15; Fridays the clinic will operated between 08.15-12.00. Lab tests and imaging studies will be done on site and throughout clinic hours. Answers will be distributed within an hour so that parents do not have to return to the clinic or wait at home for answers. Pharmaceuticals will be available at Newpharm located in the adjacent Beilinson Hospital. Parking will be free.