Skip page content
2018 Stats
In anticipation of the new calendar year 2019, Schneider Children's reviews accomplishments during 2018.
Date: 24.12.18 | Update: 10.03.19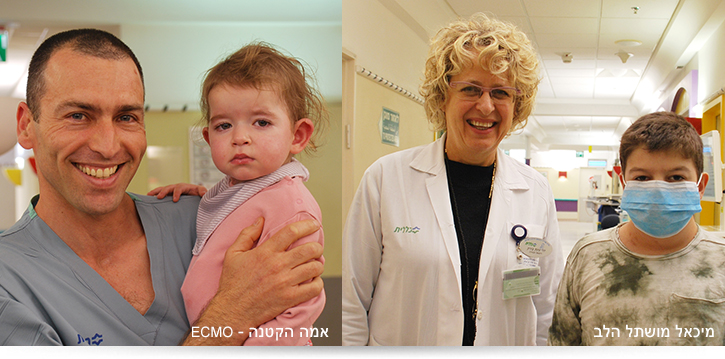 Accomplishments during the past year include:
55,000 children were treated in the Emergency Medicine Department (ER)



30 infants and children were connected to the ECMO system, which replaces heart and lung function, among them infant Emma, who remained connected for 68 days



13,000 admissions were registered in the various departments amounting to some 71,000 hospitalization days



44 organ transplantations, including an artificial heart implant in 11-year-old Michael from Ashkelon; 23 kidney transplants and 20 liver transplants; one of the special procedures this year was due to an altruistic liver lobe donation for a 15-month-old recipient



39 children underwent bone marrow transplantations



12,000 surgeries were conducted, among them 400 cardiac and vascular surgeries; and 224 neurosurgeries, including a dramatic brain procedure which saved the life of a 13-year-old youngster from Petach Tikva



Schneider Children's achieved first place among 28 hospitals in the country in a survey conducted by the Ministry of Health for safety of care



1,770 hemodialysis treatments were performed in the Dialysis Unit



680 cardiac catheterizations and 850 vascular catheterizations were performed in the Cardiology Institute



The Neonatology Department at Schneider Children's was rated first among 29 Neonatal Departments in the country by the Ministry of Health



835 premature infants and newborns were treated in the Neonatology Department among them 161 preemies who weighed less than 1,750 kg.



840 children were treated in the Pediatric Intensive Care Unit



201,000 visits were registered in the various clinics and institutes



39 children with hearing impairments underwent cochlear implants in the Otolaryngology Unit and rehabilitation in the Audiology Institute



About 100 foreign nurses and doctors from China, Romania, Moldava, Kazakhstan and Brazil underwent advanced training



More than 200 research papers were published in professional journals; about 180 new research studies were initiated, augmenting 500 active studies



12,000 balloons made up a huge Channukiah that was placed in the hospital's lobby during the Channukah Festival



Under the supervision of the Educational Center, 47 hospitalized youngsters completed their matriculation exams



Friends of Schneider Children's funded the acquisition of 2 advanced ventilators and comprehensive monitoring system for the Cardiac Intensive Care Unit; 2 bronchoscopes, 2 endocscopes and one microscope for the ENT Unit; 1 advanced ERG machine for the Ophthalmology Unit; and 3 smart video screens for the Nuclear Medicine Unit



The Our Children (Yeladim Shelanu) Foundation supported several projects and programs including the annual employment of two complementary medicine therapists (Shiatsu and Guided Imagery) 5 days a week in the Hemato-Oncology Department, and 4 hospital clowns 6 days a week in the ER



About 2,200 articles, interviews and news items featuring Schneider Children's appeared in the various Israeli media outlets
Schneider Children's comprises 268 beds, of which 33 beds are assigned to Day Care, and employs 1,500 doctors, nurses and para-medical professionals, and administrators who make every effort to promote the recovery and health of patients.