Skip page content
A Channukah Miracle of a Different Kind
11½-year-old Michael Kahana undergoes heart transplant following recent procedure to implant a pump (artificial heart) that served as a bridge until a human heart was found
Date: 06.12.18 | Update: 20.12.18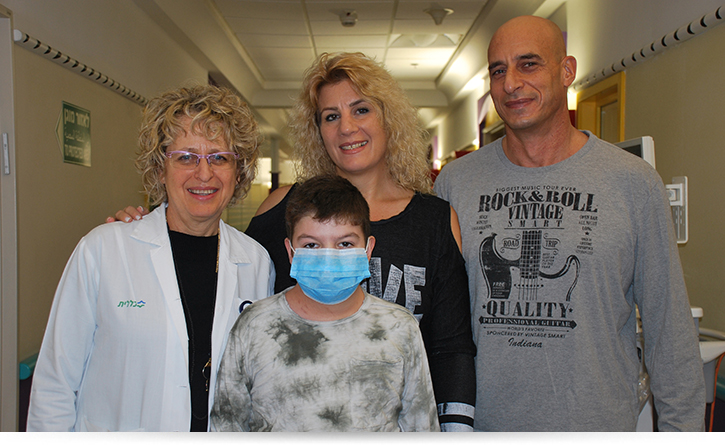 Monday night November 26, 2018: Schneider Children's was notified that a human heart had been donated for Michael Kahana, 11½, from Ashkelon. Michael, a patient in the Institute of Cardiology at Schneider Children's headed by Dr. Einat Birk, had waited many months for an organ donation to save his life.
A month and a half ago, Michael underwent a special procedure to implant a pump (artificial heart) in the left side of his heart that allowed his condition to stabilize while he waited for a heart transplant. The entire nation followed his story while he waited for a donation of a human heart.
Mimicking a complex military operation in the deep of night, the transplant team of cardiologists, surgeons, anesthetists and operating room staff at Schneider Children's prepared for the heart transplant which continued into the morning hours of the following day. The transplant was conducted by Prof. Dan Arvut, Director of the Cardiothoracic Surgery Department at Beilinson Hospital and Schneider Children's, Dr. Viktor Robachevsky, Deputy Director of the Cardiothoracic Surgery Department at Beilinson Hospital, Dr. Gabi Amir, Director of Cardiosurgery in Newborns at Schneider Children's, and Dr. Yaakov Katz, Director of Anesthesiology at Schneider Children's. Following the transplant, Michael was transferred to the Cardiac Intensive Care Unit headed by Prof. Ovdi Dagan, and head nurse Rim Abd el Hai. He has recovered well and he will shortly be discharged from hospital.
Michael and his family moved the entire nation a few months ago when they appealed to the public for assistance so that he could undergo the transplant abroad due to the dearth of organs in Israel. When his condition became critical a month and a half ago, surgeons implanted an artificial pump in his heart to keep him alive until the transplant.
According to Dr. Einat Birk, "Michael suffered from severe heart failure. When his condition deteriorated, we sought an interim solution until a human heart was donated. It is very exciting to see him today following the life-saving heart transplant."