Skip page content
Schneider Children's Places First
Schneider Children's is the safest hospital in Israel among 28 hospitals on the Israel scale of safe hospitals, according to a survey conducted by the Ministry of Health during 2018
Date: 21.08.18 | Update: 17.09.18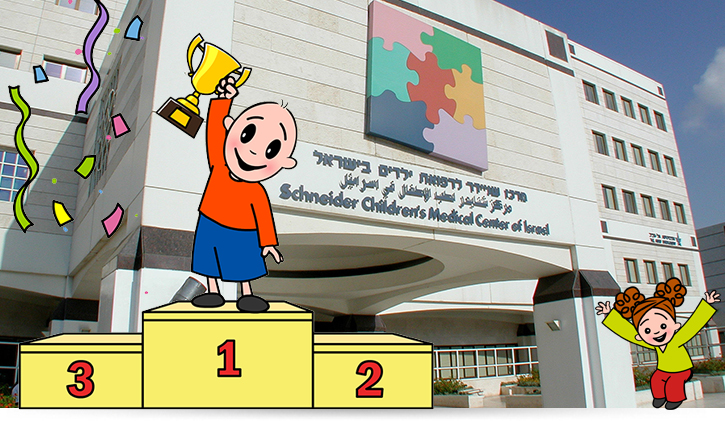 Schneider Children's is the safest hospital in Israel among 28 hospitals on the Israel scale of safe hospitals, according to a survey conducted by the Ministry of Health during 2018.
Key units in the hospital where errors can cause significant injury to patients were inspected. These included the pharmacy, blood bank, operating rooms, imaging machinery and the ER. In each of these departments, two parameters were checked: the first – the processes of safety management in the hospital; and the second – results of a safety incident. The data were calculated based on reports sent by the hospital to the Ministry of Health as well as an investigation conducted by outside investigators who underwent special training and checked the operation of the hospital in the field.
The broad-scale inspection included
Examination of proper performance in the initial stages of patient identification in order to prevent a situation where a patient mistakenly receives the medication of another patient


Whether porters transport the correct patient to the right department


Whether the doctor checks the patient's details prior to examination


Whether medical and nursing staff underwent safety training


Adherence to basic regulations


Steps taken in each department to improve safety


Learning processes and conclusions drawn following safety incidents


"Almost" cases of injury to a patient, but avoided at the last minute
Discussions were also held with medical and nursing team members to evaluate the level of their awareness regarding patient safety.
The team in the Safe Care and Risk Management Unit at Schneider Children's makes every effort to advance awareness regarding patient safety, and trains medical, para-medical, and nursing staff as well as other hospital employees in the adherence to regulations. Unit staff is headed by Deputy Director of Schneider Children's, Dr. Avinoam Pirogovsky, and includes Idit Ronen, Coordinator of Safety Issues; Prof. Yitzhak Versano who serves as a consultant; Dr. Vered Hopper, Nurse Ofra Malichi and referent to the Operating Room; Tal Zilberstein, coordinator of quality control; and secretary Mazal Avdorachmanov.
Dr. Pirogovsky noted that "heading the list for hospital safety in Israel brings much pride to Schneider Children's and its employees. Many thanks to the members of the Risk Management Unit for their unparalleled professionalism and consistent efforts, and to the staff in the hospital through whose cooperation we attained this achievement which provides maximum safety to hundreds of thousands of children treated in Schneider Children's each year. From our perspective, patient safety is a fundamental principle that we accomplish in practice every day."