Skip page content
4 Days: 5 Organ Transplants
Within 4 days, 5 children received the gift of life due to organ donation - an unusual marathon of organ transplantations one after the other
Date: 01.07.18 | Update: 15.07.18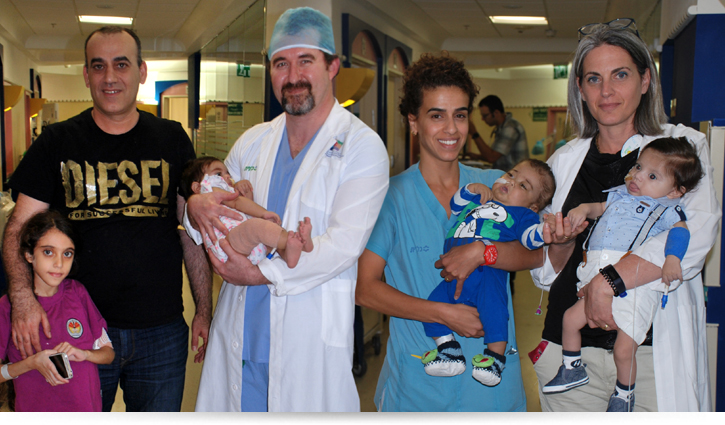 Within 4 days, 5 children received the gift of life. For the first time, 4 liver transplants and one kidney transplant were conducted day after day in 5 children. The unusual marathon of surgeries took place at Schneider Children's.
The first transplant was conducted in 5-month-old Yonatan from Jerusalem who suffered from a congenital liver defect in the ducts of his gall bladder; his father donated a liver lobe. The second liver transplant was conducted in 7-month-old Yuval from Eshkolot in the Negev. Yuval also suffered from a congenital defect; her mother donated a liver lobe. Two cadaveric liver donations accorded transplants in 8-year-old Abu Riah Sara from Sakhnin and 10-month-old Kfir from Arad. The kidney transplant was conducted in 10-year-old Ahmed from the Bedouin Community, who had been under dialysis treatment in the Nephrology Institute at Schneider.
Schneider Children's is among the few pediatric hospitals in the world able to conduct a large number of organ transplants within a short space of time. Expert medical team and surgical suite readiness is essential in order to perform a number of complex transplantations, including that of a living adult donor to a child. Teams are comprised of pediatric transplant surgeons, anesthetists, ultrasound technicians, surgical nurses, intensivists and more.
Schneider Children's conducts the majority of organ transplantations in children in Israel. Since its inception, more than 600 transplantations of heart, lung, liver and kidneys have been performed in children with success on a par with leading pediatric institutions in the world.