Skip page content
Liver Transplant Just in Time
11 years and 10-month-old Or'el received a liver lobe donation just in time obviating his downgrading to the (longer) adult waiting list at age 12
Date: 18.02.18 | Update: 27.03.18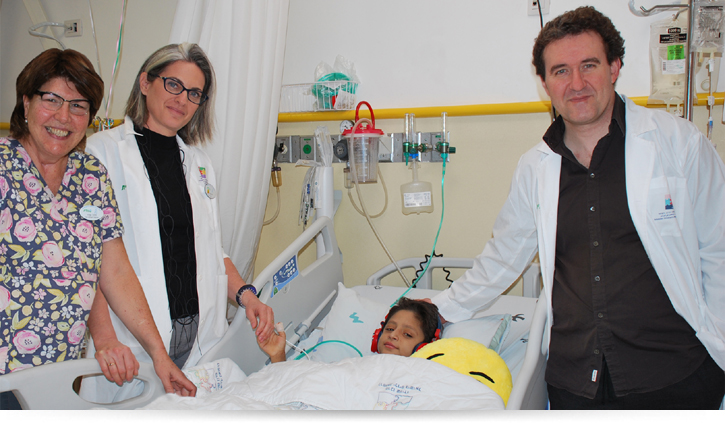 11 years and 10-month-old Or'el from Tel Aviv underwent a liver transplant recently at Schneider Children's. He was referred from another hospital where intensive tests showed that he suffered from a rare inherited genetic disease called cholestasis, where bile from the liver cannot flow into the duodenum. Had he not received a donation of a compatible liver lobe before he turned 12, he would have been transferred to the waiting list for adults, which has a much longer waiting period for an organ donation than that for children.
The transplant was performed by a team from the Organ Transplantation Department including senior surgeons Dr. Michael Gurevich and Dr. Sigal Eisner, and anesthetists Dr. Igor Tzunzer and Dr. Ludmilla Katchko. Following the operation, Or'el was transferred to the Pediatric Intensive Care Unit headed by Dr. Elhanan Nahum and then Pediatrics C headed by Dr. Irit Krause. His post-operative care is being overseen by Dr. Yael Mozer-Glassberg from the Institute of Gastroenterology, Nutrition and Liver Diseases. The transplant was coordinated by Nurse Michal Shafir.
Schneider Children's performs the majority of organ transplantations in children in Israel and is among one of the few hospitals in the world that is able to conduct several organ transplantations in children at the same time. Since its founding, Schneider Children's has conducted over 500 organ transplantations of the heart, lungs, liver and kidneys in infants, children and adolescents with a success rate on a par with leading pediatric institutions around the globe.