Skip page content
Grandmother Donates Kidney to Grandson
Schneider Children's recently performed a kidney transplant in 7-year-old Rafael Hadad, who received a kidney from his grandmother, Ayala Hadad
Date: 14.02.18 | Update: 27.03.18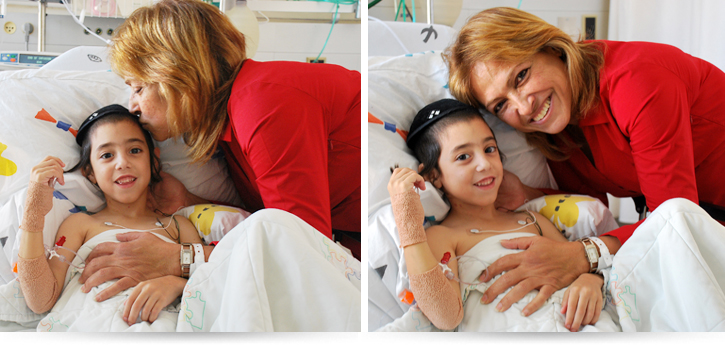 Schneider Children's recently performed a kidney transplant in 7-year-old Rafael Hadad of Petach Tikva, who suffered kidney failure and needed an urgent kidney transplant. From the moment she heard that her grandson needed a transplant, Ayala Hadad, a grandmother of 5, did not hesitate to donate a kidney to him.
The medical and nursing teams at Schneider Children's are used to cases where parents donate organs to save their child's life, but this situation moved even the veteran staff members among them. Dr. Sigal Eisner, senior physician in the Organ Transplantation Department, said that "a grandmother who donates a kidney to a grandchild is very unusual. Families should know that any relative, and not necessarily parents, who wish to donate a healthy kidney and is found compatible after testing, can do so to save a life."
Ayala said emotionally, "When I was found to be a suitable donor, I thanked God for the privilege of giving the gift of life while I am alive. I feel that I was an emissary. It was a great honor which I did wholeheartedly and with love. The transplant took place on Tu B'Shvat, a festival that signifies growth and the planting of seeds of hope. I am indebted to the angels in the form of human beings - Dr. Michael Gurevich and Dr. Sigal Eisner -and all others who save lives, and can implant the gift of life in people."
The operation was performed by staff in the Organ Transplantation Department at Schneider Children's: senior transplant surgeons Dr. Sigal Eisner and Dr. Michael Gurevich and anesthetists Dr. Yair Manvich and Dr. Yelena Zeitlin. Immediate post-operative care was conducted in the Pediatric Intensive Care Unit headed by Dr. Elhanan Nahum, and long-term follow up by the Institute of Nephrology headed by Prof. Miriam Davidovits. The transplant was coordinated by Nurse Naomi Zanhandler. Rafael progressed well and was transferred shortly after to the Surgery Department headed by Dr. Irit Krause.
An organ transplant from a living donor is a complex procedure requiring special preparation of hospital teams including pediatric transplant surgeons, anesthetists, ultrasound technicians, surgical nurses, intensivists and other specialists. During the operation, both donor and recipient are placed in adjoining operating rooms. Once the kidney is removed from the donor, it is transferred for immediate implantation into the recipient.
Schneider Children's performs the majority of organ transplantations in children in Israel and is among one of the first pediatric institutions in the world that is able to conduct living-related liver lobe transplants in children. Since its founding, Schneider Children's has conducted over 500 organ transplantations of the heart, lungs, liver and kidneys in infants, children and adolescents with a success rate on a par with leading pediatric institutions around the globe.