Skip page content
Liver Recipients Fly to Swiss Alps
A delegation of children and adolescents who underwent liver transplantation at Schneider Children's, flew recently to the ski resort, Nicholas Green Camp, in the Swiss Alps
Date: 28.01.18 | Update: 29.01.18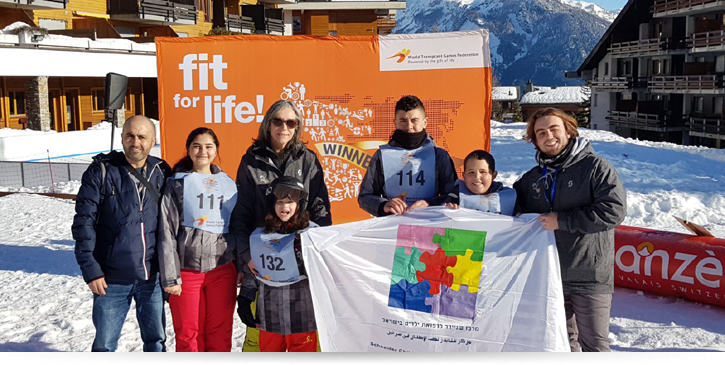 The group was accompanied by Slavic Yeletzki, 22, who underwent a kidney transplant as a child in Schneider Children's and Khaled, the father of one of the liver receipients and a professional paramedic, who participated in the tour. Schneider Children's has been sending delegations of organ recipients for several years to the ski camp, a tradition made possible due to the continued generosity and funding of the Executive Board of Friends of Schneider Children's, a non-profit that supports the hospital.
The group comprised 4 children and youth aged 9 to 15 years, all of whom had undergone liver transplants at Schneider Children's. The camp hosted another 50 children who came from different countries including the UK, China, Greece, Morocco, Spain and more.
The Nicholas Green ski camp dedicates one week annually for the purposes of the international gathering for youth organ recipients, for whom this week is of great importance. For most of the children, this is the first time in their lives that they are independent and have their first opportunity as organ recipients to change their regular routine of home and hospital. Additionally, the joint experience of staying and sleeping with other children and youth allows them to find a common language and better understanding of life before and after the transplant, while bridging language and cultural gaps.
Schneider Children's conducts the majority of organ transplants in children in Israel, and one of the few hospitals in the world able to perform several organ transplants at the same time. Since its inception, Schneider Children's has conducted over 500 heart, lung, liver and kidney transplants in children, with rates of success on a par with leading medical centers in the world.
As noted by Slavic, "the camp provides a different atmosphere that the recipients are used to. They learn about a healthy way of life, and have an incredible experience in managing without their parents where the emphasis is on independence and obligation. I waws happy to see their achievements and the caring that they showed one another, and the help they provided to someone in difficulty."