Skip page content
Kidney Transplant in 22-Month-Old
A rare kidney transplant was conducted in Alex, a 22-month-old toddler at Schneider Children's recently. He is the youngest kidney recipient in two decades
Date: 18.12.17 | Update: 20.12.17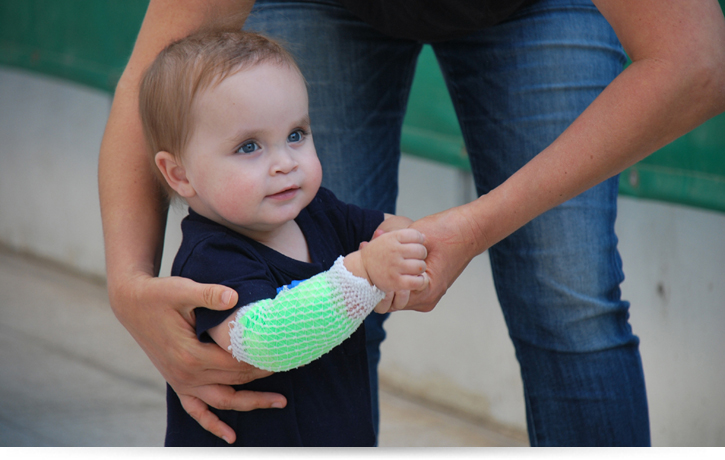 A rare kidney transplant was conducted in Alex, a 22-month-old toddler at Schneider Children's recently. He is the youngest kidney recipient in two decades. Alex suffered from kidney dysfunction and had undergone dialysis treatments for the past year. The transplant aimed to significantly improve his quality of life as it released him from the necessity of treatments. Due to his young age and weight, he required a kidney that would match his size and best acclimate. After many months, a suitable donor was found.
The surgical team included senior transplant surgeons Dr. Sigal Eisner and Dr. Michael Gurewitz, and anesthetists Dr. Haran Fisher, Dr. Elia Peled and Dr. Konstantin Nikarsov. Alex was transferred for immediate post-surgical care to the Pediatric Intensive Care Unit headed by Dr. Elhanan Nahum, and thereafter to Pediatrics C, headed by Prof. Irit Krause. Follow-up care will be handled by Dr. Orli Haskin, senior physician in the Nephrology Institute headed by Prof. Miriam Davidovits. The transplant surgery was coordinated by Nurse Naomi Zanhandler.
Dr. Eisner noted that "the donation of cadaveric organs saves the lives of adults and children who are waiting for a transplant as in the case of Alex. Because of his size, he was only able to receive a cadaveric donation. The difficulty in making such a decision at a most excruciating time is understandable, but the significance of saving someone's life must be understood." Alex's mother, Tali Elsheich, added emotionally that "through the parents' infinite generosity, they decided to perform this life-saving mitzvah for Alex at the worst time faced by any parent, and through their courageous decision and the excellent care Alex received from everyone - and the list is long at Schneider Children's - our lives have changed and have become normal. We will be indebted forever."
Schneider Children's performs the majority of organ transplantations in children in Israel and is among one of the few pediatric institutions in the world that is able to conduct several organ transplantations at the same time. Since its founding, Schneider Children's has conducted over 500 organ transplantations of the heart, lungs, liver and kidneys in infants, children and adolescents with a success rate on a par with leading pediatric institutions around the globe.