Skip page content
Illustrative Charts for Leukemia Treatment
Schneider Children's recently began to distribute illustrative charts depicting the leukemia treatment process to children in the care of the Hemato-Oncology Division
Date: 01.10.17 | Update: 11.12.17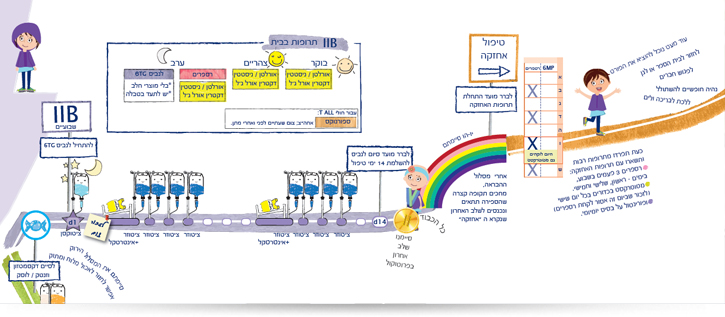 Schneider Children's recently began to distribute illustrative charts depicting the leukemia treatment process to children in the care of the Hemato-Oncology Division.
The initiative resulted from an idea by Zohar Shalev whose daughter, Hadas, suffered from leukemia. Working with senior oncologist Dr. Gil Gilad, Zohar designed graphics to reflect the spirit of the treatment route and depict the needs of the children and their families.
Hadas contracted leukemia at the age of 4 and underwent treatment for two years in the Hemato-Oncology Department. Following her recovery, Zohar - an expert graphic designer of professional information – suggested designing an illustration of the leukemia treatment protocol using simple terminology and visualizations suitable for children coping with leukemia.
"I designed a treatment chart illustrating the medication route out of a desire to help children and their families during the difficult period they would be facing ahead," said Zohar. "My daughter inspired me to create an image to accompany the child throughout the stages of treatment who would explain things in a simple way. I wanted the journey to health to be sensed by the patient so that he could understand his position and become part of it."
Dr. Gilad added, "Zohar, through her intellect, personal and professional experience and creative skills, succeeded in prompting a significant accomplishment which gained support from the management of the Hemato-Oncology Division in Schneider Children's. The illustrative charts of the protocol after a year's work have been warmly welcomed both by children and their parents. Their unique approach, graphics and lucid texts allow children to navigate through the various stages of treatment and help raise awareness and better preparation regarding expectations, regulations, schedules, logistics, side effects and more. I had the great privilege of working with Zohar and being part of this important step that promotes treatment."