Skip page content
First in Israel: Rare Neurosurgery
A rare and especially complex neurosurgery at Schneider Children's, which was conducted for the first time in Israel and has been performed only a few times in the world, saved the life of 9-year-old Tara
Date: 15.10.17 | Update: 11.12.17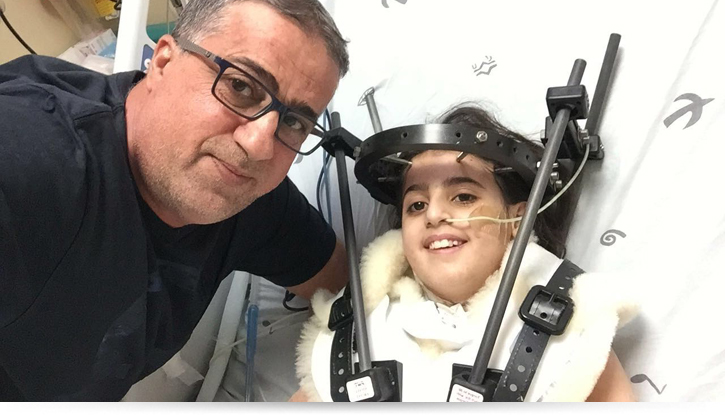 A rare and especially complex neurosurgery which was conducted for the first time in Israel and has been performed only a few times in the world, saved the life of 9-year-old Tara. The operation took place at Schneider Children's.
The surgery was conducted by a broad multidisciplinary team from the Departments of Neurosurgery, Otolaryngology, Plastic Surgery, Mouth and Jaw, Neurophysiology and Anesthesia from both Schneider Children's and Beilinson Hospital. Heading the team was Dr. Shalom Michowiz, Director of the Neurosurgery Unit at Schneider Children's, Prof. Eyal Yitzhiak, Director of the Spinal Surgery Unit at Beilinson, and Dr. Evelynne Tarabkin, Director of Neurosurgical Anesthesia at Schneider Children's.
9-year-old Tara was diagnosed with a tumor located on the second vertebra of her spinal cord. This required special treatment as the tumor encased the entire vertebra at the back of her neck and comprised many blood vessels feeding the brain stem and spinal cord.
In a long, tension-filled 12-hour operation, due to the tumor's characteristics and its sensitive location, specialists removed the tumor, exposed the spinal vertebra, separated the large blood vessels attached to it, and then extracted the first two upper neck vertebrae. To compensate for the lost vertebra, a special graft that was printed on a 3D printer was implanted in order to connect the spinal cord with the skull. The graft joining the third vertebra to the base of the skull was covered with tissue to provide a buffer between it and the laryngeal and esophageal canals. During the final stages of the operation, the child was fitted with a special splint to reinforce the connection between the spine and the skull.
The operation was completed successfully, after which Tara was transferred to the Pediatric Intensive Care Unit headed by Dr. Elhanan Nahum and then to the Surgery Department headed by Prof. Naftali Freud.
Dr. Michowiz noted that "this was one of the most complex and rare operations ever performed in Israel and even globally due to its highly complicated features that required experience, skill and close cooperation between teams and team members from the various disciplines. I am proud that each team member who participated in the operation and was moved that we were able to save Tara's life and her quality of life through this revolutionary procedure."