Skip page content
Friends of Schneider Children's Annual Fundraiser
The annual fundraiser of Friends of Schneider Children's took place recently in the Smolarz Auditorium at Tel Aviv University, for the benefit of all the children at Schneider Children's: newborns, toddlers, children, and adolescents
Date: 14.11.17 | Update: 11.12.17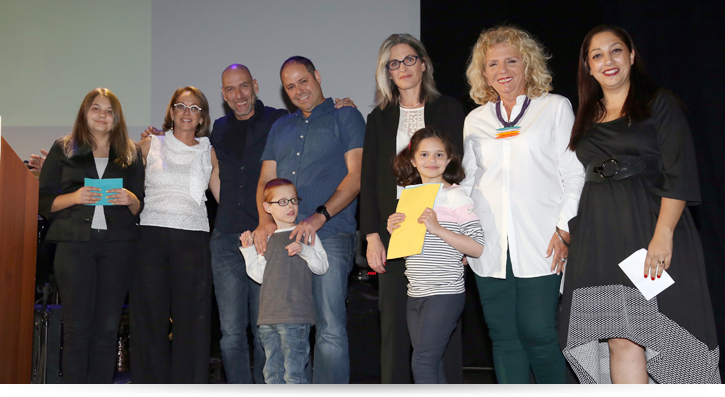 The annual fundraiser of Friends of Schneider Children's took place recently in the Smolarz Auditorium at Tel Aviv University, for the benefit of all the children at Schneider Children's: newborns, toddlers, children, and adolescents.
Former Israeli Judoka, Arik Zeevi, served as volunteer Master of Ceremonies, and the audience enjoyed a special performance by Ehud Banai and Parparei HaKetzev under the banner "New Life". The event also marked the opening of the exhibition of photographs by Ziv Koren who returned to photograph now-healthy children he had documented during their hospitalization in Schneider Children's 5 years previously.
Prof. Joseph Press, Director of Schneider Children's, Ronen Tov, Assistant CEO at Meitav Dash and Chair of the Executive Committee of Friends, and Adv. Efrat Bar-Natan, CEO of Friends, hosted 900 guests from the business, public and private financial sectors. Among the guests were Shlomo Iliya, Chair of Netz Corporation; Dudi Weissman, Chair of Sonol; Noam Lanir, entrepreneur and businessman; and businessman and philanthropists Yosef Bar Natan and his wife Nurit. Businessmen Oren Revach; Esti Lauder CEO, Moti Zonnenfeld; Akiva Moses; Yosef Meirov, Orit Benvenisti, CEO of Tagbur Corporation; Adv Elad Eisenberg; partner and office owners Orlensky Eisenberg Mosesson and partners, Chaim Ariel, owners of Netivim Corporation, Avner Stepak, owners of Meitav Dash; Yuval Gavish, Assistant CEO of Bank Discount; Doron Sapir, CEO of Visa and Ka'al; Raz Ron, CEO Discount; Dani Margaliot, Chair of BDO, Eli Metz, CEO Medi Taas; publicists Eilon Zarmon and Rami Yehoshua, and many more.
Friends of Schneider Children's is an association of supporters whose activities have benefitted the hospital since its founding in 1992, and assists in its development and progress in many fields including the establishment of building construction, new units, acquisition of equipment, and supporting special projects and clinics. Friends of Schneider Children's works to attain its vision to enable every child to receive the finest care available.