Skip page content
Prof. Shai Ashkenazi received an award by the European Society
Prof. Shai Ashkenazi, Director of Pediatrics "A" at Schneider Children's, received an award by the European Society for Pediatric Infectious Diseases (ESPID) in recognition of his long-term contribution to medical education in infectious disease in children
Date: 04.06.17 | Update: 20.08.17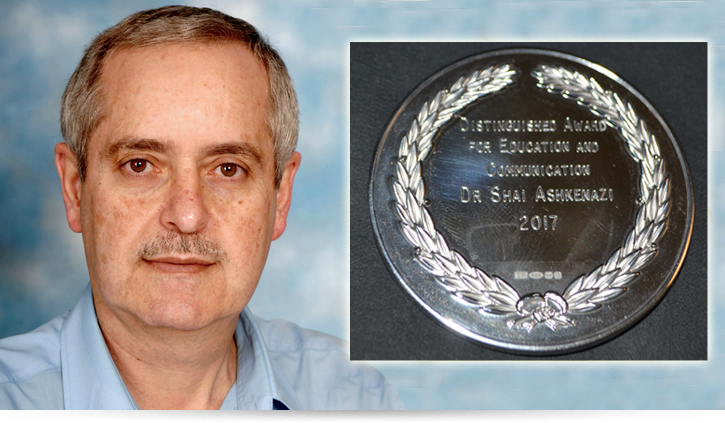 In an exciting ceremony that took place recently in Madrid, Spain, Prof. Shai Ashkenazi, Director of Pediatrics "A" at Schneider Children's, was awarded a special medal by the European Society for Pediatric Infectious Diseases (ESPID) in recognition of his long-term contribution to medical education in infectious disease in children.
Prof. Ashkenazi served as a member of ESPID's advanced education committee for 6 years, after which he was elected chair of the committee. During his term, he advanced ongoing studies and professionalism in pediatric infectious disease particularly for young doctors through the introduction of new initiatives. Thus each month a complex patient was presented online for study, in-depth discussion and emphasis on the indicators learnt during the process of infection; courses were prepared directed towards important topics such as the proper use of antibiotics and treatment of children with AIDS; local refresher courses were organized with the support of ESPID; leading speakers were sent to developing countries; and two-day workshops were organized for residents in infectious diseases around the world, which takes place each year as part of the annual conference.
Additionally, Prof. Ashkenazi is a respected lecturer in the Faculty of Medicine at Tel Aviv University, having twice been accorded the title of Outstanding Teacher and the recipient of many prizes. He edited (together with Prof. Mordechai Shohat) the main Hebrew textbook "Pediatrics" that has been published 8 times since 1985. He also serves as chair of the Israeli Pediatric Society.
Upon receiving the award, Prof. Ashkenazi stated that "I am very pleased I was able to contribute towards the advancement of care in infectious diseases in children in Israel and the world, which still remains most common in children, and to our regret, is still accompanied by complications and fatalities. I see this award as an expression of gratitude to all medicine in Israel and its contribution to the world."