Skip page content
A Bridge No More
As part of the infrastructure work for the hospital's extension, controlled demolition took place of the veteran pedestrian bridge connecting the parking area with the hospital building
Date: 05.02.17 | Update: 13.02.17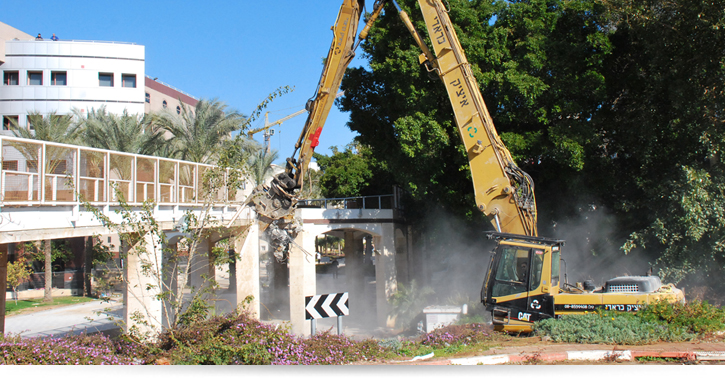 Construction of the new building at Schneider Children's is continuing with great gusto. As part of the infrastructure work for the hospital's extension which began several months ago, a controlled demolition took place this week of the veteran pedestrian bridge connecting the parking area with the hospital building. The bridge, over which hundreds of employees march daily to work and thousands of patients have walked over the years, was successfully dismantled.
The giraffe, lion and rabbit sculptures from the popular children's story "Mitz Petel" (Raspberry Juice) that were located on the bridge and welcomed everyone who passed by, will be relocated.
The new Southern Wing will be constructed alongside the existing building to the south on an area covering 36,000 sq m, of which about 30,000 sq m will be built up. The new building will double the existing capability of the hospital and will continue to operate along the same principles of medical excellence, service and patient satisfaction, advanced techniques and equipment, and research.
Ilan Shemesh, Director of Administration at Schneider Children's, stated that "there is no doubt the dismantling of the bridge is a symbolic landmark and an important stage in the construction of the new extension. The Southern Wing will represent a significant step up in medical technologies and patient settings, and will preserve Schneider Children's status as a national and international leader in pediatric medical excellence for children in Israel."