Skip page content
A Record Year
During 2016, a record 29 kidney transplants were conducted in children at Schneider Children's
Date: 22.01.17 | Update: 13.02.17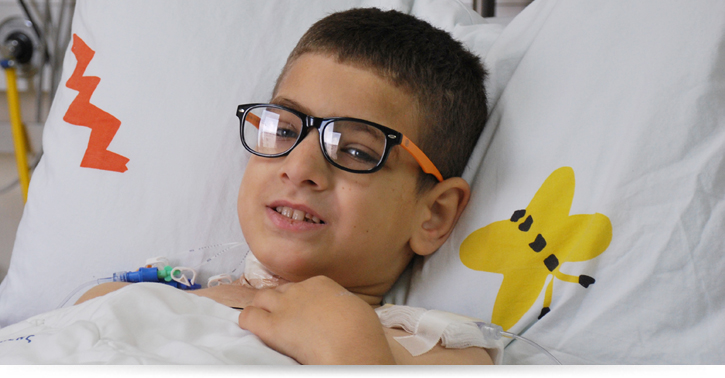 During 2016, a record 29 kidney transplants were conducted in children at Schneider Children's. Of these, 14 kidneys were donated following the death of the donor, and 15 transplants were performed following a kidney donation from a living relative of the child or altruistic donor.
The smallest recipient during 2016 was a 2-year-old girl whose father donated a kidney to her. The oldest recipient was a 23-year-old adult with special needs who had undergone a cadaveric kidney transplant at the age of 10. The kidney however was severely rejected by his body and he returned to dialysis treatment at the hospital. At the beginning of 2016, his family received the exciting news that a donor had been found, and after more than half his life on dialysis, his quality of life was significantly improved following the transplant.
Among other recipients were a 15-year-old boy with severe kidney failure - his parents were unsuitable as kidney donors so his uncle donated a kidney; a 10-year-old girl who suffered from a hereditary disease who needed both a liver and a kidney transplant; two children who were relatives, a boy of 10 and a girl of 5 who suffered from a hereditary disease both gained a new lease on life due to one donor; a girl of 8 with a congenital genetic metabolic disease whose mother donated a liver lobe and a kidney; and a boy of 3 who had been in dialysis for two years due to kidney failure.
The transplant surgeries were conducted by Dr. Sigal Eisner and Dr. Michael Gurevitz, senior physicians in the Organ Transplantation Division at Schneider Children's. Kidney transplants, a complex procedure in adults, are even more so in small children demanding special preparation of teams including pediatric organ transplant surgeons, ultrasound technicians, anesthetists, operating room nurses, intensivists and more. All are highly experienced professionals in pediatric organ transplantation.
The multidisciplinary team which treats the children prior to and following surgery involves personnel from the Organ Transplantation Department headed by Prof. Eytan Mor, the Surgical Suite headed by Dr. Yakov Katz, the Pediatric Intensive Care Unit headed by Dr. Elhanan Nahum, the Nephrology Institute and Dialysis Unit headed by Dr. Miriam Davidovits, Pediatrics C headed by Dr. Irit Krause, the transplant coordinator Naomi Zanhandler, the Ultrasound Unit, and many more.
In addition, 14 liver transplants and 3 heart transplants were performed during 2016 at Schneider Children's.
Schneider Children's conducts the majority of organ transplants in children in Israel, and one of the few pediatric hospitals in the world capable of performing several organ transplants simultaneously. Since its inception, Schneider Children's has conducted over 500 heart, lung, liver and kidney transplants in infants, children and adolescents, with rates of success on a par with leading medical centers in the world.