מרכז שניידר לרפואת ילדים בישראל - homepage


Skip page content
Marathon Transplants
A dramatic day at Schneider Children's: within 24 hours, 4 children underwent organ transplantations that saved their lives
Date: 12.12.16 | Update: 29.12.16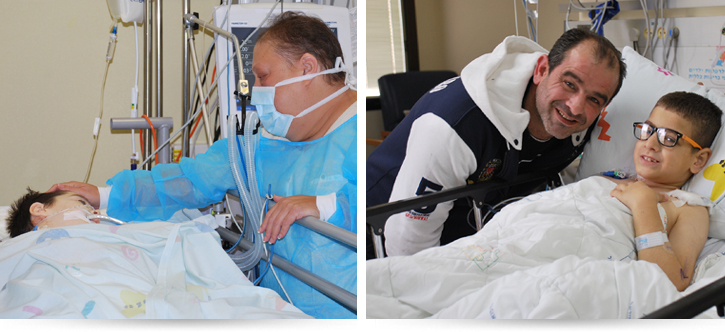 Within 24 hours, 4 children underwent organ transplantations that saved their lives. The marathon surgeries took place in the early hours of the morning when a heart, liver and two kidneys were received, and successfully transplanted in four children one after the other.
An 8½-year-old boy received a new heart. He had suffered from cardiac disease that affected his heart and needed an urgent transplant to save his life. He was hospitalized in the Intensive Care Unit at Schneider Children's in stable condition.
At the same time, a 4-year-old girl received a liver. She had suffered from a growth in her liver and had been under treatment for several months in the Oncology Department.
Two kidneys were subsequently transplanted.
The transplant operations were conducted by a team in the Organ Transplantation Department at Schneider Children's. The heart transplant was conducted by Dr. Gabi Amir, senior cardiac surgeon at Schneider Children's, and Prof. Dan Arvut, Head of Cardiothoracic Surgery at Beilinson Hospital. The liver transplant was performed by Dr. Michael Gurevich, senior transplant surgeon in the Organ Transplantation Department at Schneider Children's and Dr. Sigal Eisner, senior surgeon in the Organ Transplantation Unit. The transplants were coordinated by transplant coordinators, nurses Michal Shafir and Naomi Zanhandler.
Schneider Children's conducts the majority of organ transplantations in children in Israel. Since its inception, over 500 heart, lung, liver and kidney transplants have been performed in infants, children and adolescents with a rate of success on a par with leading medical institutions in the world.