מרכז שניידר לרפואת ילדים בישראל - homepage


Skip page content
A Heart for his Barmitzvah
Two days before his Barmitzvah, Yinon underwent a life-saving heart transplant at Schneider Children's
Date: 06.12.16 | Update: 19.12.16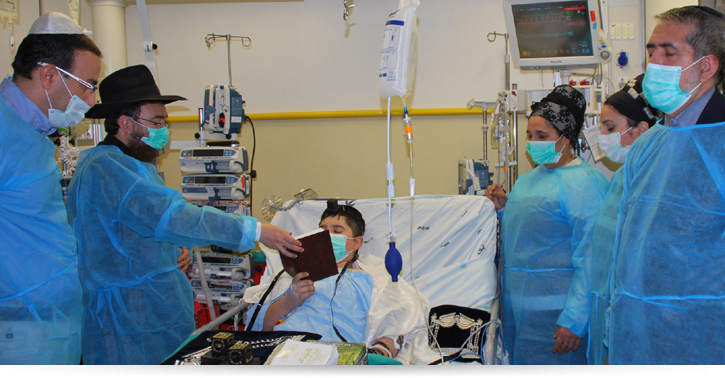 Yinon, 13, suffered from heart dysfunction due to cardiomyopathy and was on the waiting list for a heart donation for several months. Just two days before he was scheduled to celebrate his Barmitzvah, the family received word that a heart had been donated. The operation was performed by Dr. George Frenkel, Director of the Cardiothoracic Surgery Unit at Schneider, and Prof. Dan Arvut, Director of the Cardiothoracic Surgery Department at Beilinson Hospital.
Despite the transplant, Yinon and his family asked to have the celebration without waiting. The team in the Cardiac Intensive Care Unit headed by Prof. Ovadia Dagan, together with the Chief Rabbi of Clalit Health Services, Rabbi Menachem Lefkibecker and the Rabbi of Schneider Children's, Rabbi Asher Laby, arranged the simcha. The especially moving event that did not leave a dry eye; Yinon celebrated his Barmitzvah in the Cardiac Intensive Care Unit surrounded by his family. A day later, Yinon was moved to the Pediatrics Department where he recovered well.
His mother said that throughout the period of waiting, she prayed that her son would celebrate his Barmitzvah with a new and healthy heart. "Intensive Care and the entire dedicated team at Schneider were with us during the difficult moments and the happy moments. We still have a way to go but we will remain optimistic and thank the family of the donor for saving my son's life."
Schneider Children's conducts the majority of organ transplants in children in Israel, and one of the few pediatric hospitals in the world capable of performing several organ transplants simultaneously. Since its inception, Schneider Children's has conducted over 500 heart, lung, liver and kidney transplants in infants, children and adolescents, with rates of success on a par with leading medical centers in the world.