מרכז שניידר לרפואת ילדים בישראל - homepage


Skip page content
New at Schneider: Neurosurgical Intraoperative MRI
The inauguration of the Intraoperative MRI in the Neurosurgical Operating Room, representing the most advanced system available today, took place recently at Schneider Children's
Date: 11.09.16 | Update: 10.10.16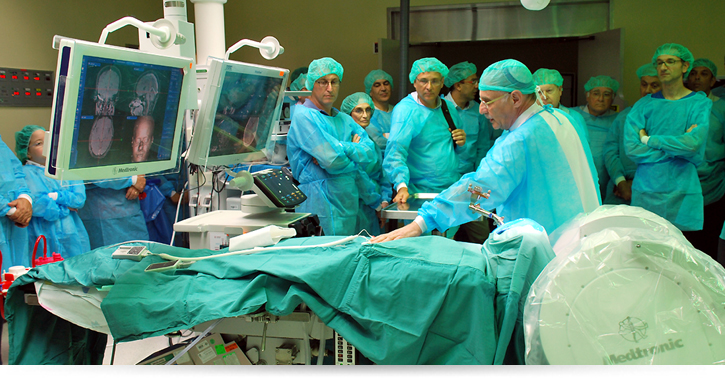 Dr. Shalom Michowiz, Director of the Neurosurgical Unit, demonstrated the state-of-the-art facilities and expressed his appreciation to the donors whose generosity had made this possible. Guests at the ceremony included representatives of the donors and members of management.
The installation of the intraoperative MRI is the continuation of a process to outfit the hospital with the most technologically advanced equipment available today. This will transform Schneider Children's into one of the foremost centers in the Western World, where use of the Neurosurgical MRI, Navigator and Microscope is standard during operations of the brain and spinal cord in children.
At the heart of this process is intraoperative imaging in all its facets and its use in real-time to improve surgical results and increase the patient safety during the operation. Intraoperative MRI provides real-time and precise images of the surgical field according broad visual acuity of the brain and surrounding areas. This sweeping view of the brain during neurosurgery is critical due to brain shift that occurs as the operation proceeds. The advanced technological systems allow the surgeon to plan required processes before and during surgery in order to perform the most precise and best procedure. The intraoperative MRI also accords the best excision of tumors especially low-grade masses that look similar to normal brain tissue.
Dr. Michowiz noted that "At Schneider, we treat the most complex neurosurgical conditions in children. The new intraoperative MRI outfitted with cutting-edge technologies represents the most advanced equipment available. We are deeply grateful to our donors who made this exceptional development possible."