מרכז שניידר לרפואת ילדים בישראל - homepage


Skip page content
21-month-old Gaia receives a liver lobe from her aunt
Schneider Children's successfully conducted a liver lobe transplant in 21-month-old Gaia after her aunt donated a liver lobe
Date: 15.08.16 | Update: 28.08.16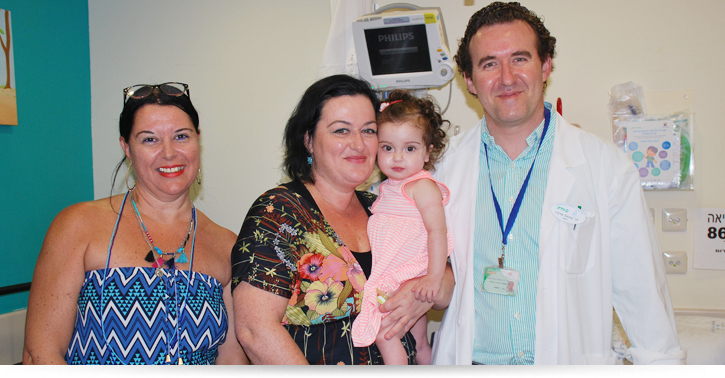 Little Gaia suffered from congenital liver disease and was in treatment almost from the day of her birth. When her medical condition deteriorated threatening her life, she had to have a liver transplant.
Galia, her mother and a single parent, was initially tested for suitability to donate a liver lobe to her daughter. She had to lose weight in order to do so. Together with her sister, Pazit, she signed up for a special weight loss program. Galia ran into difficulties trying to lose weight but her sister had success.
When approached, Pazit, Gaia's aunt and a mother of three small children, didn't hesitate for a second to donate a liver lobe to her niece. The surgery took place a few weeks ago, and was conducted by Dr. Michael Gurewitz, senior surgeon in the Transplant Department at Schneider Children's and the transplant team headed by Prof. Eytan Mor. The transplant was coordinated by the coordinator nurse, Michal Shafir.
The operation and recovery was touch and go. Gaia's life was still in danger. With the assistance of specialists in the Intensive Care Unit headed by Dr. Elchanan Nahum, and Dr. Morris Topaz, Director of Plastic Surgery at Hillel Yaffe Hospital in Hadera, who was called in to perform a new technique that he developed to close the chest cavity, the medical team succeeded in saving Gaia's life. She was discharged from hospital this week.
Schneider Children's conducts the majority of organ transplantations in children in Israel, and is among the few pediatric institutions in the world capable of performing a number of organ transplantations at the same time. Since its inception, Schneider Children's has conducted more than 500 transplantations of the heart, lungs, liver and kidneys in infants, children and adolescents at a rate of success on a par with leading medical centers in the world.