מרכז שניידר לרפואת ילדים בישראל - homepage


Skip page content
Happy and Healthy Yom HaAtzmaut!
Schneider Children's experts have issued tips on how to enjoy the national Independence Day holiday without injury or weigh gain
Date: 23.04.17 | Update: 24.04.17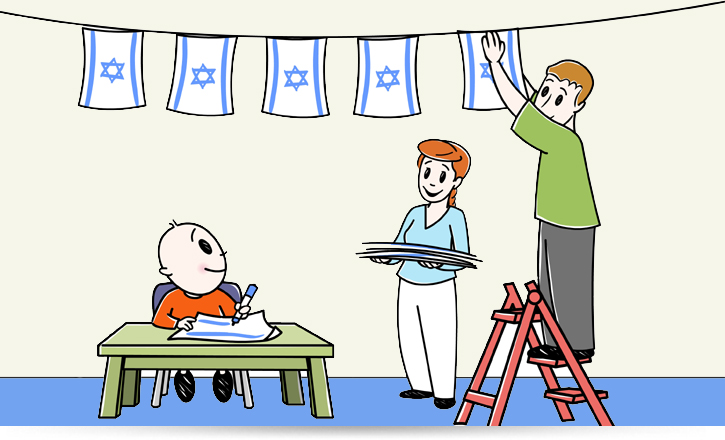 Yom Ha'atzmaut – Independence Day – is a national holiday in the State of Israel when the population celebrates at entertainment centers and having picnics in parks. Each year, children arrive at the hospital with injuries sustained from fireworks, barbeques and various aerosol sprays. Specialists at Schneider Children's Medical Center have issued recommendations about how to have an enjoyable holiday, without gaining weight.

Prof. Yehezkel Waisman, Director of the Emergency Medicine Department, recommends:
Foam and Aerosol Sprays
These contain chemical substances which can enter and injure the eyes. It is preferable therefore to avoid playing with them. If still used, they should not be directed towards the eyes. In the event of an eye injury from these substances, the eyes must be washed well with tap water and medical attention sought.



Barbecues
In order to prevent burns, all children should be kept away from any fire, whatever its source. In the event of a burn, wash the affected area with cold tap water, cover with a burn dressing or clean cloth and seek medical attention.



Eating Meat
Children under the age of 5 should not be offered tough meat to chew to prevent choking. Sausages should be cut along the length, not across, to prevent inhalation to the lungs. All small snacks, nuts, etc, must be kept out of reach of children under the age of 5. During meals, children should eat while seated and not while playing games to avoid choking.



Cap Guns
These should be avoided as far as possible. Cap guns should not be played with nor kept in trouser pockets. Should injury occur, wash the affected area with tap water, cover with a bandage and seek immediate medical attention. It should be remembered that firecrackers sold in shops despite the Standards approval can also cause injuries.



Electric Bicycles
There has been a dramatic rise in the use of electric bicycles in recent years alongside injuries sustained from them. Only children over the age of 14 should ride them and only in bicycle lanes – never in the street - while maintaining a speed below 25kmp. Riders must wear helmets; knee and elbow protectors are recommended.

Dana Resnick, clinical dietician in the Nutrition and Dietary Unit, notes that the national holiday provides another opportunity to serve as a personal example.
Everyone knows that Yom HaAtzmaut is a "BBQ" holiday. However, simple changes can pass the message to the familiy that celebrations do not have to only be around food, and it is worthwhile selecting a picnic site near a hiking route or sports elements.

Prepare vegetable kebabs together with children according to their ages, as well as salads and/or decorated vegetable platters, so that they too can enjoy the joint activity and understand the importance of vegetables in the menu. Vegetables in five different colors providing different nutritional values should be eaten every day (green, red, yellow-orange, white and purple). The greater the variety of color and cooking method, the greater the array of vitamins and minerals, nutritional fibers which offer a sense of satiety at a low calorie count.



Oils and Fats – the use of essential fatty acids is recommended as the body needs them yet doesn't produce itself. They are found in avocado, olive oil, almonds, houmous, techina and olives. Small amounts should be used due to their high calorie count.



Healthy alternatives to chips can come from the legume family which are rich in nutritional fibers and minerals, and contain more proteins than those from the carbohydrate/grain family. Potatoes should not be fried, but baked or grilled.



The Ministry of Health underscores the avoidance of honey until the age of one year. This should be taken into account when preparing marinades for meat or fish.
Although Yom HaAtzmaut is only one day, the barbeque tradition is an invitation to gain weight.
Enjoy food within limits. During the week of the holiday, it is recommended to add physical exercise or increase your daily exercise routine.



Eat proper meals. The barbecue constitutes a huge caloric temptation, so maintain your regular meals (they can be reduced) in order not to arrive at the barbecue too hungry. Increased hunger means incorrect food choices with higher calorie counts are consumed faster.