מרכז שניידר לרפואת ילדים בישראל - homepage


Skip page content
2015 Outstanding Employees
Prizes for the "2015 Employee of the Year" at Schneider Children's were awarded recently to four employees and one team in tribute to and recognition of their diligence and initiative shown during the past year
Date: 28.02.16 | Update: 07.03.16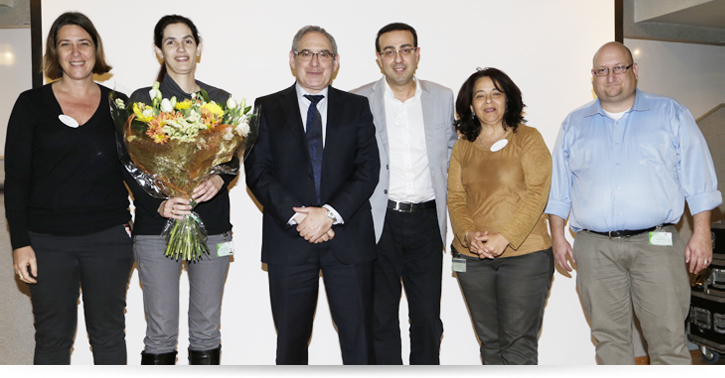 Prizes for the "2015 Employee of the Year" at Schneider Children's were awarded recently to four employees and one team in tribute to and recognition of their diligence and initiative shown during the past year, as well as prizes to two departments for excellence in patient care. The impressive and moving ceremony was arranged by the Director of Development for Human Resources, Etti Tzur, and the Director for Marketing and Customer Services, Irit Bibi, who also officiated at the ceremony. Presenting the awards were Prof. Joseph Press, Director of Schneider Children's, CPA Ilan Shemesh, Director of Administration, Nurit Baruch, Director of Nursing and Ran Zechariya, Director of Human Resources. Avraham Dehan, 13, a star of the TV show "School for Music" gave a performance.
Dr. Anat Ben Dor, Director of the Laboratory at Schneider Children's, received the Clalit CEO's Prize for 2015 from Mr. Eli Depes. Dr. Ben Dor has been employed at Schneider Children's since 2010 managing sensitive medications, and succeeded in unifying the Hemato-Oncology lab and the lab for urgent tests into one single arena, which has become a leading center for lab tests in children. Dr. Ben Dor instituted many procedural changes to build top notch mechanisms and new lab controls, and received wide acknowledgement by her superiors and colleagues both within and outside the hospital.
In addition, Hospital Director's Prizes were awarded to Ayelet Aharon, Coordinator of Salaries; Irena Valkov-Braverman, a nurse in Pediatrics B; and Dr. Konstantin Nekrasov, senior anesthesiologist. Tributes were presented to the team in the Formula Kitchen. Prizes for Patient Care for 2015 were awarded to the Pediatrics "C" Department headed by Dr. Irit Krause, and the Rheumatology Unit headed by Prof. Leora Harel.
Prof. Press said at the ceremony that "the year of 2015 was notable for its wonderful accomplishments on behalf of our patients and their families. We marked many successes in our clinical and research efforts due mainly to professionalism, excellence and the spirit of hospital employees. Through their efforts, Schneider Children's leads the field of pediatric medicine in Israel. I would like to take this opportunity of expressing my gratitude to each and every one of you."