מרכז שניידר לרפואת ילדים בישראל - homepage


Skip page content
Massive Channukiah in the Lobby
A massive Channukiah was erected on the first night of Channukah in the lobby of Schneider Children's
Date: 07.12.15 | Update: 31.12.15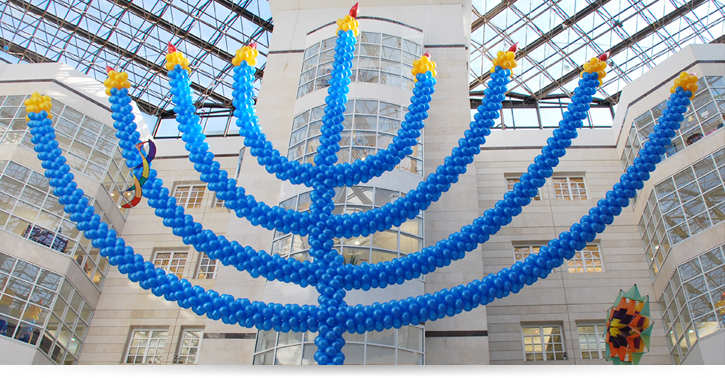 A massive Channukiah was erected on the first night of Channukah in the lobby of Schneider Children's. Erected at the initiative of the "Hope & Recovery" charitable organization and "Assaf Balloons", the Channukiah comprised about 4,000 balloons, 22.5 meters high and 20 meters wide, and was designed and engineered by the artisan "Assaf Balloons".
Within the space of 24 hours, the huge Channukiah was installed by volunteers from "Hope & Recovery", assisted by snappling enthusiasts from "Natural Phenomenon", who usually participate in rescue operations but mobilized for this special endeavor. Patients and their families delighted no end at the huge and impressive edifice that cheered everyone who entered the lobby throughout the 8 days of the Festival.
"Hope & Recovery" supports the Institute of Nephrology at Schneider Children's through the organization of various activities for the children and assists families. "Assaf Balloons" volunteers for the charity and undertakes special projects in hospitals around the country.