מרכז שניידר לרפואת ילדים בישראל - homepage


Skip page content
Tips for Shavuot
Schneider Children's offers advice about enjoying festival favorites without gaining weight during the holiday.

Date: 17.05.20 | Update: 20.05.20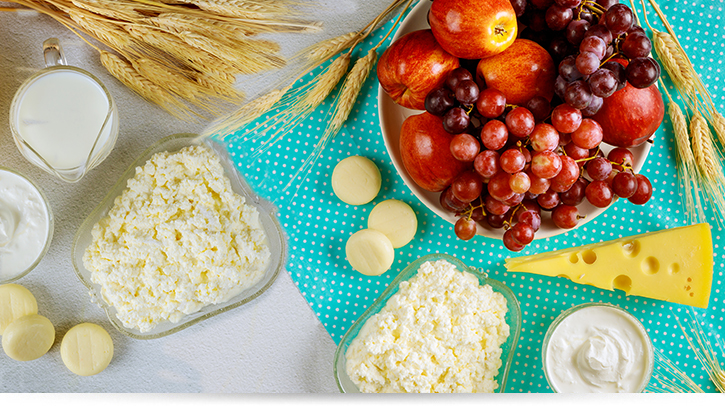 One of the most common traditions of the Shavuot Festival is the custom of eating dairy products and first fruits. Dafna Ziv Busani, clinical dietician in the Nutrition and Dietary Unit at Schneider Children's, offers advice about enjoying festival favorites without gaining weight during the holiday.
Consumption of Dairy Products:
Shavuot is an excellent opportunity to demonstrate and explain to children the importance of eating dairy products and enriching the diet with calcium. Dairy products comprise quality protein that helps to build the body's tissues, the immune system and more. Once can consume dairy products as is or use them in pastries, cakes, salads thus enriching the diet with quality calcium and protein. There is an abundance of dairy products with various levels of fat content. Over recent years, many dairy products have been infused with bacteria and probiotics. These are considered friendly bacteria that can improve the digestive process among other benefits.

Calcium:
Dairy products are an excellent way to enrich our diet with calcium. It is important to consume at least three milk products a day and especially if they are calcium-enriched. Among the enriched items are white cheeses, hard cheeses (more calcium but also with a higher fat content, and therefore favor those with low fat content), yoghurt or calcium-enriched milk, and various milk-based drinks. There is an abundance of different milk products with various levels of fat content. There is little difference in taste in low-fat dairy products with a fat content of between 0-5% fat. It is recommended to add ricotta cheese to baked pastries and quiches because it is high in calcium. Much research has focused on Vitamin D (really a hormone) which our bodies obtain from dairy products and which assists the body, among other functions, to effectively absorb calcium in the colon promoting healthy bones and more. Dairy products are enriched with Vitamin D, another reason to consume them at least three times a day.

Fruits and Vegetables:
Fruits and vegetables are just waiting to be picked and served on the table. This is the time to prepare a huge salad with lots of vegetables or to eat fresh and healthy fruits. From the nutritional standpoint, it is better to eat fresh fruit than to squeeze its juice or eat dried fruit. At the same time, it is important not to eat too much fruit since they contain sugar, as opposed to low-calorie vegetables. Cheese can be added to any salad.

Water:
One of the most popular activities on Shavuot is water games. Over and above the fun, it is important to remember to drink enough water. Water should always be above sweet drinks, which are not thirst-quenching like water. One glass of sweetened drink contains a large amount of sugar and therefore it is regarded as candy rather than a drink. Drinking water rather than sweetened juices should become a habit from an early age. Water can be flavored with plants such as lemon verbena (lemon grass), mint leaves or slices of fruit such as oranges or lemons.