מרכז שניידר לרפואת ילדים בישראל - homepage

Skip page content
2014 Employees of the Year Ceremony at Schneider Children's Medical Center
Nurse Tamar Natanzon-Bracha, Clinical Supervisor of the Hematology-Oncology Division, awarded the Director of Clalit Prize

Date: 25.01.15 | Update: 14.12.15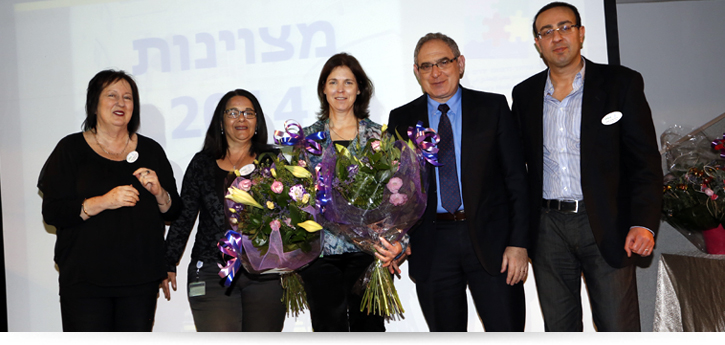 The ceremony for 2014 Employees of the Year at Schneider Children's Medical Center took place this week at the hospital. "Employee of the Year" for 2014 was awarded to 4 staff members and two teams in tribute to their dedication and initiative shown during the past year. Three departments received prizes for patient satisfaction. The impressive and moving ceremony was organized and directed by the Director of Marketing and Services at Schneider, Ms. Irit Bibi together with the Human Resources Department headed by Attorney Rivka Kaiser. All winners received their awards from Prof. Joseph Press, Director of Schneider Children's, Accountant Ilan Shemesh, Director of Administration, Nurit Baruch, Director of Nursing and Attorney Rivka Kaiser. During the event, Israeli judoka Arik Zeevi addressed the guests and Uri Shachiv, a graduate of the X-Factor in Israel, volunteered a performance.
Tamar Natanzon-Bracha, a resident of Kadima, married and mother of three, has served as the Clinical Supervisor in the Hemato-Oncology Division at Schneider since 2008, and received the Director of Clalit Award for 2014. In April 2014, Ms. Natanzon-Bracha was appointed Director of Nursing in the Hemato-Oncology Division and combines professionalism with service alongside compassion for her co-workers and the young patients in her care. She is sensitive to the staff and promotes the advancement of research. The Director of Clalit Prize will be awarded to Ms. Natanzon-Bracha in a national ceremony to take place in February 2015.
In addition, the Hospital Director's Prize was awarded to Dr. Rama Schwartz, senior physician in the Emergency Medicine Department; to the medical team in the Neonatology Department headed by Prof. Lea Sirota, and to the team in the Bone Marrow Transplantation Unit, headed by Dr. Jerry Stein. Recognition was also accorded to Olga Gochstein, a nurse in the Cardiac Intensive Care Unit, and Ruti Gurewitz, a medical secretary in the Cardiology Department and Risk Management Unit.
Prizes were awarded for outstanding care in 2014 for the first time this year to Pediatrics A, the Oncology Clinic and the Anesthesia Division. The staff in Pediatrics A is professional, acts like a family, empathetic, and accompanies and supports hospitalized children and their families, providing them with assurance that they are in the best and most professional hands. The team in the Oncology Clinic treats children and their families from all over the country, sometimes under very complicated conditions while dealing with pain and sorrow, yet with moments of great joy and satisfaction. The team in the clinic treats both the child as well as his family in a supportive, sharing and embracing environment. The multidisciplinary team in the Anesthesia Division accompanies the child undergoing surgery from the moment a decision is made for the operation up till after the surgery. The team works with responsibility and dedication in order to alleviate the fears of the child and his family, both before and after the operation.
According to Prof. Joseph Press, Director of Schneider Children's, "2014 proved to be another year of accomplishment and excellence on behalf of our young patients in Schneider Children's and their families. We achieved many successes in both clinical care and research, which was due not only to professional and quality teamwork but also mostly due to the spirit and excellence of our staff in the hospital. Because of them, Schneider Children's has been the leader of pediatric medicine in Israel since its inception and has attained international recognition. Our Employees of the Year, together with the outstanding departments have been awarded prizes in recognition and in tribute to their dedication, treatment and initiative that they showed throughout the past year."