מרכז שניידר לרפואת ילדים בישראל - homepage

Skip page content
Nepal Disaster
Following the disastrous earthquake in Nepal, many Israelis were evacuated and flown back to Israel, including two small premature babies of 32 weeks and 34 weeks. Upon landing at Ben Gurion Airport, the preemies were transferred by ambulance to Schneider Children's for evaluation and monitoring in the Neonatology Department headed by Prof. Lea Sirota
Date: 28.04.15 | Update: 14.12.15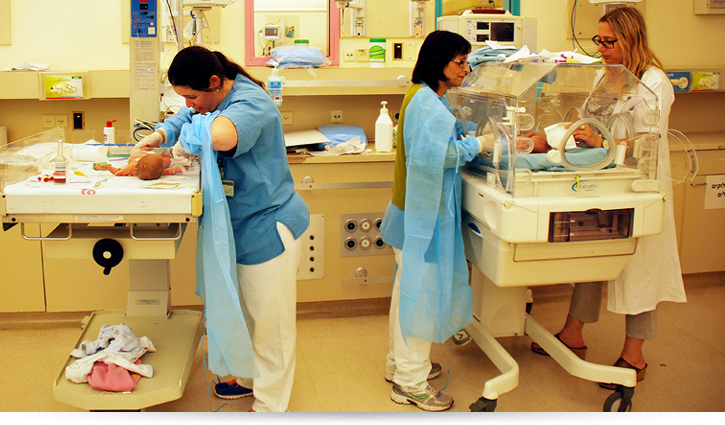 Dr. Tamar Laron-Kennet, a senior physician in department, was in constant contact with the family of the infant even before the earthquake in Nepal, in order to offer medical guidance. Dr. Laron-Kennet joined other medical staff equipped with an incubator, who went to the airport to receive the tiny infants and accompany them to the medical center.
"The condition of the babies is good and stable considering the circumstances," said Dr. Laron-Kennet. "One preemie of 34 weeks weighing 1.9kg and the other weighing 1.7kg are being fed intravenously. They are undergoing expansive tests including blood tests and imaging studies. I was very moved to see the relief on their parents' faces when they gave the babies into our care."
Two senior physicians and one nurse from Schneider Children's travelled to Nepal as part of the Israeli response team: Prof. Elhanan Bar-On, Director of the Orthopedic Unit, Dr. Eran Mashiah, an emergency medicine specialist, and neonatal nurse, Yifat Kreitzer. Prof. Bar-On has in the past participated in Israeli response teams sent, among others, following the typhoon in the Philippines in 2013.