מרכז שניידר לרפואת ילדים בישראל - homepage

Skip page content
Ski Camp for Organ Recipients
A delegation of 5 children and adolescents who underwent organ transplantations at Schneider Children's flew recently to the Tackers Ski Camp in the Swiss Alps. The group was accompanied by two nurses, Naomi Zanhandler, Kidney Transplantation Coordinator at Schneider Children's, and Gili Koren
Date: 05.04.15 | Update: 14.12.15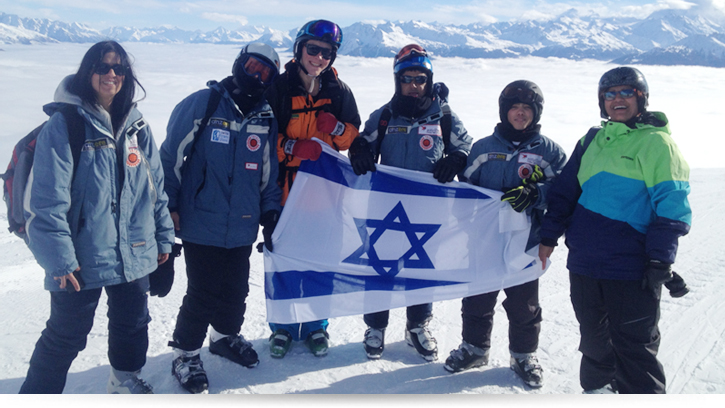 A delegation of 5 children and adolescents who underwent organ transplantations at Schneider Children's flew recently to the Tackers Ski Camp in the Swiss Alps. The delegation was accompanied by two nurses, Naomi Zanhandler, Kidney Transplantation Coordinator at Schneider Children's, and Gili Koren. Schneider Children's has sent several delegations of organ recipients in the past to the ski camp, a tradition which has been made possible through the generous donation of the Executive Committee of Friends of Schneider Children's which supports the hospital.
The group of children aged 12-18 included 3 kidney recipients and 2 liver recipients, all of whom had undergone organ transplantation at Schneider Children's. The camp comprised another 50 pediatric organ recipients from various countries including the USA, Germany, Sweden and Bulgaria.
The Tackers Ski Camp dedicates a special week every year to children and adolescent organ recipients from all over the world. The week holds much importance for these youngsters and represents for most of them the first time in their lives that they can be independent and in fact their first opportunity that they are able to change their regular routines of home and hospital. In addition, their shared stay in the company of other youngsters allows the children to find a common language and full understanding of their lives prior to and following the transplant while bridging language and cultural gaps.
Schneider Children's Medical Center, a member of Clalit Health Services, performs the majority of organ transplantations in children in the country, and is one of the few pediatric hospitals in the world able to conduct a number of organ transplantations simultaneously. Since its inception, Schneider Children's has conducted more than 500 transplantations of heart, lung, liver and kidney in infants, children and adolescents at success rates on a par with leading medical centers around the globe.
Naomi Zanhandler noted that "This year, as every year, the children returned home very excited from so many experiences. The camp is an unfamiliar place and different from what the children know. They learn about a healthy life style, take responsibility for their medications and have an amazing time while having to cope without their parents, which reinforces their self-reliance and independence. I am captivated anew every time I see the children's achievements, their caring one for the other, and their helping those in need. It is unbelievable to see how organ recipients, without their parents at their side and in a different and very challenging environment, behave as if they were born to ski".