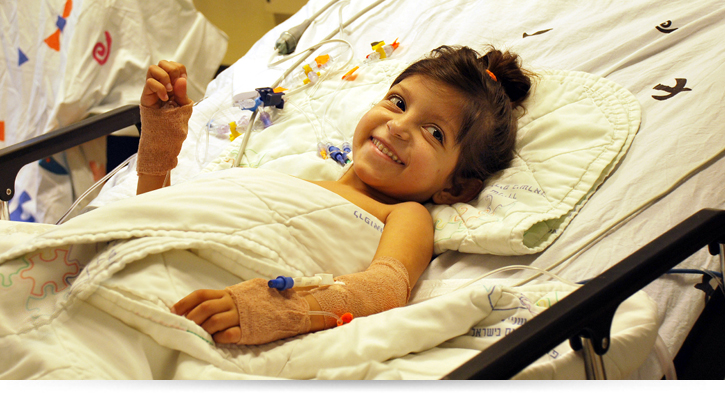 Five children received a new lease on life just hours after notification was received of organ donations. A liver lobe and four kidney transplants took place at Schneider Children's in one week; one of the kidneys emanated from an altruistic donation.
All the recipients, aged 3, 7, 16 and 18, suffered from organ failure due to debilitating disease. The mother of the 7-year-old girl was preparing to donate her own liver lobe when news was received of the donation.
The transplantations were conducted by teams in the Organ Transplantation Department at Schneider Children's headed by Prof. Eytan Mor, and comprised senior transplant physicians, Dr. Michael Gurewitz and Dr. Sigal Eisner; anesthetists, Dr. Mila Katchko, Dr. Konstantin Nikarsov, Dr. Dmitri Schmain, Dr. Yaacov Katz and Dr. Eli Simchi. The children were transferred for post-operative care to the Pediatric Intensive Care Unit headed by Dr. Elhanan Nahum. Dr. Yael Mozer-Glazberg, senior gastroenterologist will conduct follow-up care of the liver lobe recipient; follow-up care of the kidney recipients is under the team in the Nephrology Institute headed by Dr. Miriam Davidovits. The transplants were coordinated by Nurses Naomi Zanhandler and Michal Shafir.
Schneider Children's conducts the majority of organ transplantations in children in Israel and one of the few hospitals in the world capable of performing several organ transplants at one time. Since its founding, Schneider Children's has conducted more than 500 heart, lung, liver and kidney transplants in infants, children and adolescents with a success rate on a par with leading medical centers around the world.