מרכז שניידר לרפואת ילדים בישראל - homepage

Skip page content
Events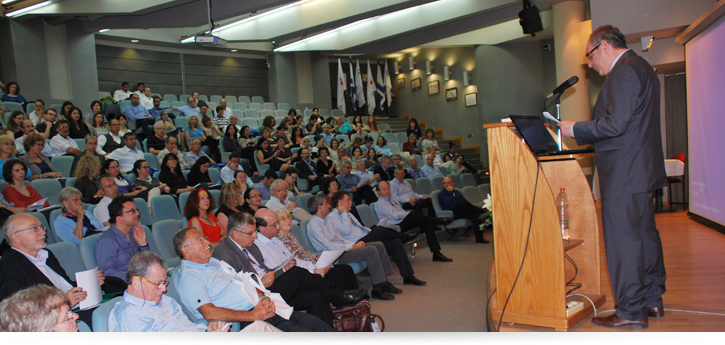 In keeping with its unique role as the only tertiary care hospital in Israel dedicated exclusively to children, Schneider Children's Medical Center arranges a wide variety of public events throughout the year. These range from professional medical conferences and symposia to charitable events to raise funds for specific equipment, programs or departments. Fundraising events are held under the auspices of the volunteer organization, Friends of Schneider Children's.
UPCOMING EVENTS
---
For further details concerning upcoming events, please contact the Director of External Affairs,
Tel: 03-9253742, unless otherwise stated.

Thursday, January 25, 2018: Biennial Research Day
Approximately every two years, Schneider Children's organizes the hospital's Research Day, which aims to give expression to leading studies in a range of topics, to encourage young investigators to participate in ongoing research and to initiate new research. Research Day will include lectures, posters' display, awards to young investigators and more. Further details will be forthcoming.


Wednesday, September 27, 2017: First International Conference on Congenital Cytomegalovirus Infection from Pregnancy to Infancy
The conference will feature two main guest speakers from abroad, Prof. David Kimberlin, University of Alabama at Birmingham, and Prof. Yves Ville, University Paris Descartes, Necker-Enfants Malades Hospital. Further details will be forthcoming.



PAST EVENTS
---
Monday, April 3, 2017: Open Night for Spring Allergies

Specialists at Schneider Children's invited parents and professionals to attend an Open Night ("Everything You Wanted to Know") which took place free of charge.
Tuesday, January 17, 2017: New Approaches in Psychosocial Therapy

The conference took place under the aegis of the Hemato-Oncology Department at Schneider Children's, and focus on new approaches in psychosocial therapy for the child with cancer and his family. Guest speaker was a psychiatrist, psychoanalyst and brain researcher, Prof. Yoram Yuval, Head of the Institute of Emotion Research at the University of Haifa.
Wednesday, October 26, 2016: Turner Syndrome Symposium for Parents
The Symposium was organized by the Institute of Endocrinology and Diabetes for parents of girls with Turner Syndrome. Parents received professional updates about the different aspects of the syndrome from the medical, social and psychological standpoints. The event also served to introduce parents to others and learn new coping methods in raising their daughters with this genetic syndrome affecting their growth.



Wednesday, September 7, 2016: Annual Pediatric Neurology Conference in memory of Dr. Rafi Weitz z"l
The Neurology Institute's annual conference named for Dr. Rafi Weitz, former director of the Institute, hosted guest speakers Prof. Avi Weitzman, Director of the Research Unit at Geha Hospital and Director of the Felsenstein Medical Research Center, and Dr. Tzippi Horowitz-Kraus of the Pediatric Brain Imaging Center at The Technion.
Tuesday, July 12, 2016: Dietary Guidelines for Americans – Focus on Child Nutrition

Guest speaker Steven A. Abrams chairs the AAP Committee on Nutrition and the Department of Pediatrics at Dell Medical School, University of Texas, Austin, USA. The lecture was organized by the Institute of
Gastroenterology, Nutrition and Liver Diseases at Schneider Children's.
Thursday, June 23, 2016: Pediatric Thyroid Tumors Conference

The Multidisciplinary Center for Pediatric Thyroid Disorders at Schneider Children's Medical Center and Beilinson Hospital organized the conference involving several departments: ENT and Head and Neck Surgery at Schneider Children's and Beilinson, and the Institute of Endocrinology and Diabetes, the National Center for Childhood Diabetes at Schneider Children's.
Thursday, June 2, 2016: First International Conference of Periodic Fever, Aphthous Stomatitis, Pharyngitis and Adenitis (PFAPA)

The First International Conference of PFAPA, organized by the Rheumatology Unit at Schneider Children's, hosted a number of distinguished guests from abroad including Gary Marshall MD from the University of Louisville School of Medicine in Louisville, KY; Sivia Lapidus MD from Goryeb Children's Hospital in New Jersey, Marco Gattorno MD from G. Gaslini Children's Hospital, Genoa, Kathryn Edwards MD from Vanderbilt Monroe Carell Jr. Children's Hospital in Nashville, Philip Hashkes MD MSc from Shaare Zedek Hospital in Jerusalem, and Shai Padeh MD of Sheba Medical Center, Tel Aviv.
Thursday, April 7, 2016: New Authority for Caregivers Conference

Schneider Children's 4th annual conference "From Non Violent Resistance towards the New Authority Concept" took place at the initiative of the Parental Authority Clinic headed by clinical psychologist Idan Amiel. The conference focused on three topics: Therapeutic Techniques and Management of Avoidance and Withdrawal in Children and Youth such as refusal to attend school and over-use of the computer, Treatment and Dealing with Violence in Schools, and Training for Therapists in Boarding Houses and Inpatient Institutions in Europe Regarding Violence.
Wednesday, February 17, 2016: Annual Growth Hormone Conference

The annual conference was hosted by the Institute of Endocrinology and Diabetes headed by Prof. Moshe Phillip and organized to provide updates for patients, families and the general public.
Wednesday, October 7, 2015: First Int'l Symposium on Pediatric Liver Transplantation

The symposium, in memory of Herman Tob z"l, is the first international pediatric conference of its kind, featured leading specialists from abroad including Prof. Anil Dhawan of King's College Hospital in London and Prof. Raymond Reding, of St. Luc University Clinics in Brussels.
July 5-7, 2015: Lorna Ramos Course for Erb's Palsy
Physical Therapy Services in cooperation with the Pediatric Orthopedics Unit at Schneider Children's organized a 3-day Lorna Ramos course to enhance the professional skills of occupational and physical therapists and that focused on Erb's Palsy. The Lorna Ramos course was created to honor the memory of the late Lorna Ramos OTR/L, MA, a distinguished occupational therapist who spent the majority of her professional career caring for children with Brachial Plexus Birth Injury. The course was conducted by experts in brachial plexus birth injuries from Miami Children's Hospital headed by Dr. John Grossman.

June 3, 2015: Headaches in Children and Youth Conference
In collaboration with the Bnai Zion Medical Center, a conference on Headaches in Children and Youth was hosted by the Headaches Clinic and Day Care Hospitalization Department at Schneider Children's. Guest speaker, Prof. Ozge Aynur, Professor of Neurology, Pain and Clinical Neuropsychology at the Mersin University School of Medicine in Mersin, Turkey, made two presentations concerning"Migraine as Independent Stroke Risk Factor", and "Case Management Diagnosis of Pediatric Headache".

April 12-13, 2015: ER Ultrasound Workshop
The professional workshop for the use of Ultrasound in the Emergency Medicine Department offered instruction in basic applications for heart, lungs, FAST and hydration rate, as well as advanced use for cornea and optic nerves, intravenous insertion, local anesthesia under sonar, and more.

March 30, 2015: Rami Kleinstein Benefit Concert
Friends of Schneider Children's hosted popular Israeli singer, Rami Kleinstein, and his band. All proceeds from ticket sales were dedicated towards the construction of the hospital's Neonatology Department in the new Southern Wing.

March 26, 2015: Biennial Research Day
Schneider Children's biennial Research Day included lectures, posters' display, awards to young investigators and more. Guest speaker was Dr. Roni Potsman, Senior Deputy Director of Research and Development at Rafael Military Industries, who spoke about "Iron Dome – Research and Development".

May 20, 2015: Pediatric Neurology Workshop for Dr. Rafi Weitz z"l
The Institute of Neurology at Schneider Children's hosted its annual workshop for parents in memory of Dr. Rafi Weitz, former director of the Institute. Guest speaker was Dr. Ganesh Mochida of Boston Children's Hospital's Genetics Division, who made two presentations on Microcephaly and Genetic Disorders of the Cerebellum.